Greater London sales & rental review Q2 2020
London's rental market set to struggle while buyer demand remains robust despite stretched affordability – and is given further boost by Stamp Duty holiday.
Even before Coronavirus, London's housing market was underperforming much of the rest of the country, in terms of both transaction levels and value and rental growth. The capital was already further along the market cycle, with stretched affordability constraining price growth, and a looming Brexit harming sentiment in an economy strongly linked to international services and trade.
Figure 1 compares the relative performance over the past decade of London against the rest of England across three metrics: price growth, rental growth and transactions. The analysis shows that London was weaker on all three measures every month from November 2016 to November 2019, with only the value growth metric returning to positive since then. The drop off in transactions is particularly stark – in England (excluding London) activity levels sit 30% below their 2001-05 average yet London is almost 20 percentage points below that at -48%.
The initial impact of the pandemic has been to reduce the need to travel to the office and increase the space people want at home – both inside and out. Commuting links have traditionally been a huge driver of demand in many London locations, but could we see this overlooked in favour of property size and access to green space? Or could London living potentially go out of fashion completely with a big shift to the country?
Robust data answering the above questions will be slow to emerge, if at all. But other indicators and qualitative surveys do suggest some initial changes in preference. Many of the surveyor comments in the June RICS survey referred to gardens and upsizing as driving increased enquiries, as did the Rightmove June index report. But families moving out of London for more space is not a new trend, as shown in Figure 2, a chart of London's domestic migration, which has seen net out-migration from the capital every year for over four decades.
The bigger question is therefore whether the young, international students and workers who come to London and have previously sustained its growth will continue to do so post-Brexit and post-Coronavirus.
London rental market
The London rental market is the sector that has arguably taken the biggest hit from Coronavirus, with demand from employment and students absent and former short-term holiday lets adding to supply. Rightmove reported that stock levels in Q2 were 41% higher than last year, with rents falling 2.8% compared to Q1 (0.6% lower than Q2 2019).
The June Homelet index reported similar results, with London underperforming the rest of the UK significantly. A summary of the latest data is shown in the table below.
Borough level data
The table below shows average values by borough for various property types, along with the overall annual change in values.
London heat map
The map below shows the local variations in median values across the capital, with the price bands covering the quintiles for the whole of London (e.g. band 2, £372,500 to £432,500, covers the 20th to 40th percentile of all transactions). With Stamp Duty temporarily removed for the first £500,000 of all purchases, we can see that many areas should receive a significant boost from the policy.
Figure 3: Median house prices, 2019, by MSOA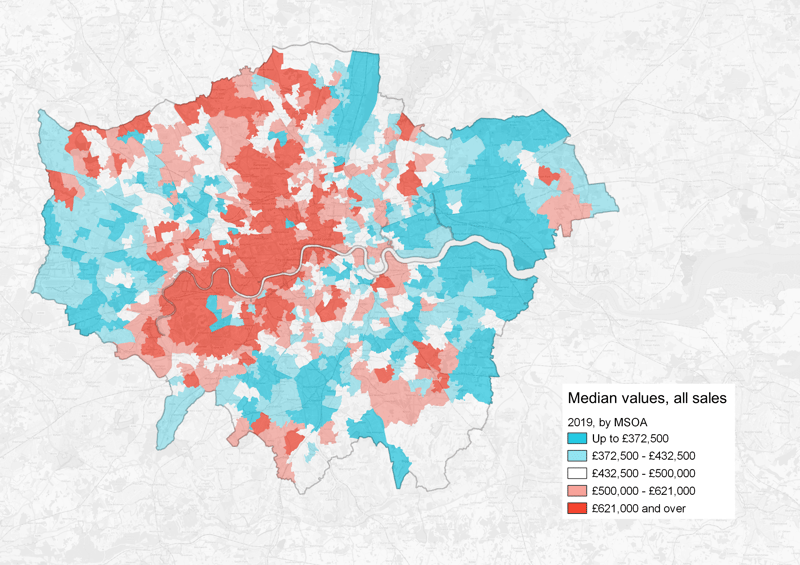 Source ONS, Open Street Map