London development Q2 2020
Sales and construction hit by pandemic in Q2 but latest completions data is more positive.
Activity levels in the London development market slowed in Q2, according to Molior data, but considering the impact of lockdown the starts and sales figures look relatively robust, as shown in Table 1. Completions had their worst single quarter since 2014. The annual data is shown below in Figure 1.
The newly released weekly EPC data from MHCLG gives another perspective on the extent of the shutdown. A comparison of data for 2020 to the 2018-19 average (Figure 2) shows the number of weekly EPCs on new build homes in London has returned to its normal level for this time of the year. Comparing the two trajectories shows 3,800 fewer new build EPCs in 2020 so far, an 18% fall. If the rest of the year continued in-line with the 2018-19 average, then the total number of new build EPCs in 2020 would be around 36,000 – 10% lower.
The risks to the construction industry on both the supply and demand sides are particularly acute in London. Even once the impact of Coronavirus fades, Brexit will take over as the major issue, potentially causing problems with labour and materials supply and more generally with London's status as an international financial hub.
One potential bright spot are the estimated 200,000 Hong Kong citizens set to move to the UK after being offered a route to British citizenship. Investors from Hong Kong have previously been a key market for London new build schemes. While the overseas sales 'roadshows' have not been able to take place, Molior noted in their Q2 sales report that virtual marketing at home and abroad was still generating significant sales activity.
Borough level data
The table below shows development activity by borough for the 12 months to Q2 2020 from Molior (sites with 20+ private units only), along with Help to Buy Equity Loan volumes to Q1.
London development map
The map below shows the local areas with the highest proportions of new home sales across the capital. In general, areas along the Thames (Nine Elms, Greenwich, Canary Wharf) and some of the outer town centres (e.g. Stratford, Wembley, Croydon) have seen the highest levels of new build sales.
Figure 3 New Home Sales, 2019, By MSOA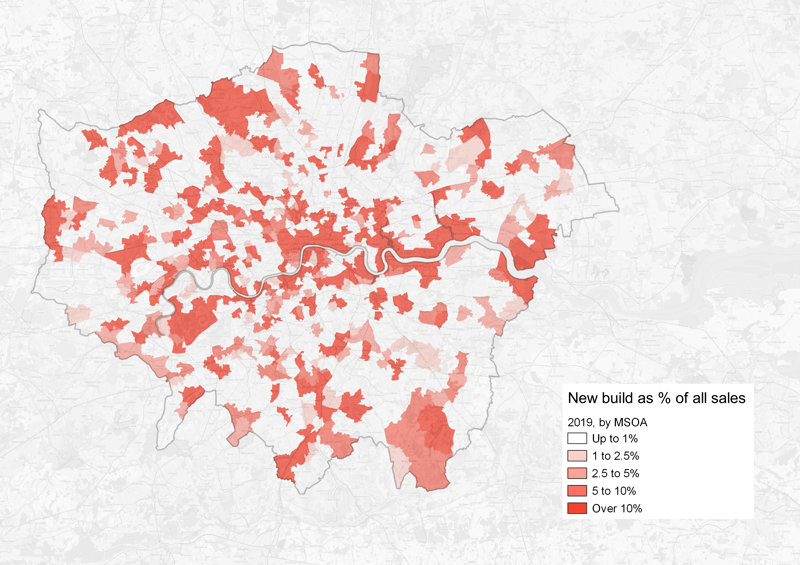 Source ONS, Open Street Map