The sales and rental markets in London both showed strong growth in Q4, but overall have not quite kept pace with the rest of the country through the pandemic period.
Rents in London, including in central areas, have returned to pre-pandemic levels. The PCL sales market continued to improve, with the super prime (£5m+) market much busier than usual.
Greater London Overview
House prices in London are growing at about half the rate of the rest of the country, according to the latest November ONS index (5.1 vs 10.5% annual). The Nationwide index for Q4 reported a similar result, with annual growth of 4.2% in the capital against 10.1% at UK level. As shown in Figure 1, the relative performance of these two measures has been volatile throughout 2021, but overall it is clear that London's market has underperformed during the pandemic.
Transaction volumes in London also trail the rest of the country, but this is a longer-term trend going back to 2014/15 and the gap has been closing over the past two years. Rental growth in London appears to be falling relative to the rest of England, but this measure is based on rents paid for existing tenancies so does not respond to changes in the market very quickly – more up-to-date metrics are considered below.
Figure 1 – London vs. rest of England: values and transactions

Source: ONS, Land Registry. *Positive = London performing better than rest of England.
Homelet's December index, based on newly agreed lets, recorded very strong rental growth in London. Annual growth reached 12.6%, compared to a UK excluding London figure of 6.6%, although this is partly due to the low base following falls in the capital during 2020.
Rightmove's Q4 index showed a similar picture, with high national level rental growth outpaced by very high growth in London (9.9 vs. 10.9%). This takes rents in the capital above their pre-pandemic level. The same applies to inner London, which recorded annual growth of 16.2% to more than reverse the steep falls seen in late 2020 and early 2021.
Table 1 – Greater London Rental Data

Source: Homelet Index (actual achieved rents), Rightmove Rental Trends Tracker (asking rents)
Market Sentiment
Expectations for the London sales market turned positive across the board in Q4, according to the December RICS survey, shown in Figure 2. Three-month expectations for activity (+40) and prices (+34) rose sharply compared to their September levels (-3 and +6), while the longer-term view built on the existing optimism. 12-month sales expectations were at a net balance of +53 (up from +28 in September), with price expectations at +70 (vs. +66).
Figure 2 – RICS Survey Sales and Price Expectations, London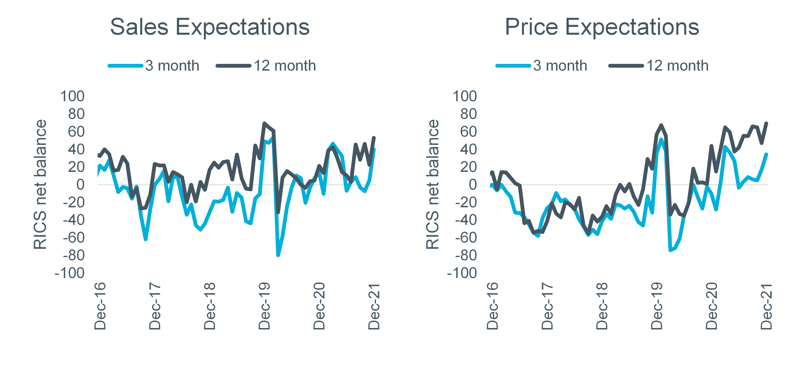 Source: RICS Housing Market Survey (Dec 2021)
The picture in the rental market was similar. Tenant demand remained high at +56 in December and, when combined with continuing low levels of new instructions (-15), means the outlook for rental growth continued to be very high. The net balance of +67 for rent expectations is the highest since the series started in 2013.
Figure 3 – RICS Survey Rental Indicators, London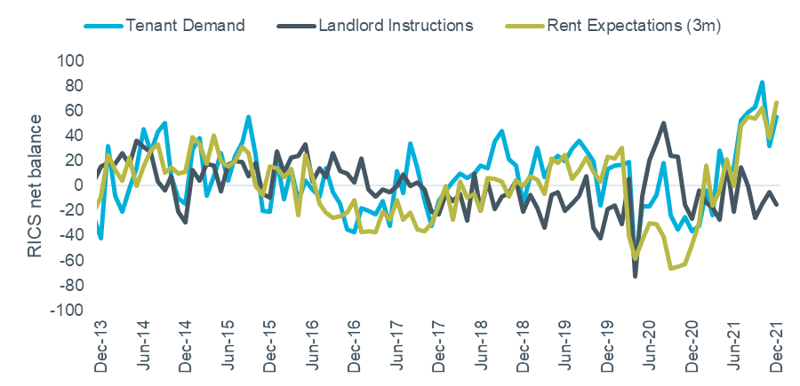 Source: RICS Housing Market Survey (Dec 2021)
Prime Central London
Q4 saw the first increase in PCL sales values since the end of 2019, according to the Cluttons Prime Central London Index, the recent results of which are shown in Figure 4. This leaves capital values down by 1.0% over 2021. Rental values continued to perform better, gaining 2.6% in Q4 to take annual growth to 19.3% and return all the value lost in 2020.
Figure 4 – Cluttons Prime Central London Index

Source: Cluttons
Q4 2021 market activity appeared less healthy than last year , according to LonRes, with transaction volumes down 4.6% and 11.1% less properties for sale compared to Q4 a year earlier. Although the average discount of properties that sell has fallen to 3.8%, 80% of properties for sale have been on the market for over three months and 44% have been reduced in price, suggesting there is still a gap in expectations between some buyers and vendors. The super prime (£5m+) market had a very strong Q4, with transactions 47% higher than the 2015 to 19 average, thanks in part to more realistic pricing.
On a quarterly basis, the volume of lettings agreed in Q4 was down 51%, with some renters rushing to renew tenancies agreed during the pandemic at discounted rents.
Agent View – James Hyman, Head of Agency
Sales demand is outstripping supply and was very strong across all of central London in Q4. Buyers are weighing current markets with their budget and the specific attributes they want from a property, leading to a shift away from the classic PCL postcodes towards areas like Shad Thames, Wapping and the South Bank. Looking ahead, it is likely that supply will increase from its current low point as interest rates rise, potentially putting downward pressure on values later in the year.
We're now in a world, where – and this is for every buyer, not just billionaires – geography is not everything. People are chasing attributes.
The rental market is exceptionally buoyant as people return to London in large numbers. Some of this is driven by returning workers who require a pied-à-terre in the city again. Demand is outstripping supply, especially in the £500-£2000 per week markets, and I don't expect to see this change any time soon. In fact, assuming no further lockdowns and the continuing removal of travel restriction, rental demand could grow over the next three years, with supply not keeping up.