Financial service companies are seeking out the best model for hybrid working, with 79% of financial service firms surveyed by CBI/PWC in Q2 2021 reassessing their workspace needs and 82% are planning on implanting hybrid ways of working.
There is now a real shift happening as financial service firms change from working largely remotely over the last year or so, to a combination of the two (remote and office based) and rethinking the way they use office space.
More evidence companies favour hybrid work model
Seemingly for every company that announces it would like its employees back in the office there seems to be a commensurate number that announce a long-term commitment to more flexible working practices. More evidence is starting to emerge on a consensus for the way forward and the hybrid model seems the most favoured; 82% of the financial service firms surveyed by the latest quarterly PWC/CBI Financial Service are implementing a hybrid work strategy. Other evidence increasingly suggests that companies want time in the office to be focused on deriving benefits from collaboration and team engagement which could require a rethink of current office layouts. Commuting patterns still show that use of public transport is low, at around 47% of pre-covid levels, dependent on transport type. September is likely to be the litmus test for the number of employees physically returning to the office. The growing emphasis on sustainability has been overshadowed by the pandemic but will be important as conditions settle.
Occupational markets are weaker
It is no surprise therefore that occupational trends have been weaker, demand levels are down and whilst there has been a tentative pick up in take-up both for key regional office markets and Central London, this is yet to translate into a significant bounce. Reduced lettings activity has seen supply increase, for regional office markets the vacancy rate remains well below the average over the last 10 years (current 5.4% compared to 8.2% over last 10 years) whilst for London the vacancy rate has just nudged above of the 10-year average (current 7.5% versus 7.1% 10 years). Despite the pandemic impact, rental growth has continued in some markets, +2% across key regional cities over the last year but slipped -2.0% in Central London.
Investment volumes in the sector were certainly lower in 2020. Parts of the market have recovered this year and the deals that are getting signed are largely achieving robust yields. It looks likely that demand will focus on space that can be configured for new workstyles and with good sustainability credentials.
Rising business expectations and sentiment will be welcome boost
Whilst there will be many road bumps ahead for the economy, overall, most of the sentiment indicators suggest a robust expansion of the service sector. The Accenture/IHS Markit UK Business Outlook recorded its highest-level business expectations in six years in June and likewise the CBI/PWC Financial Service Survey reported its largest quarterly increase in business volumes since 2017. Historically improving business conditions, lead to a pick-up in employment which in turn drives increased office demand. Whilst the relationship might be changing, undoubtedly stronger business and service sector conditions (if sustainable) will have a positive impact on office markets.
Small offices in local high streets could have a renaissance
As people mix and match the hybrid working model, flexible space to work near home may be part of the solution. In cities, small office requirements are increasingly likely to be met in large flexible workspaces in mixed use environments.
Outlook
The shift in sentiment from the start of the year to the middle of the year has been dramatic. At the start of the year, many parts of the economy were in lockdown and the vaccine rollout had only just begun. Fast forward to mid-year and sentiment and optimism is significantly stronger across a range of Covid and economic related measures. This is matched by stronger market conditions for the real estate sector (both investment and occupier markets) which is expected to continue; particularly given the continued easing of restrictions and the strong bounce back in the UK economy.
For the office market, flexibility is a key element to the outlook. As organisations rework their hybrid working strategy, office configurations will need to be flexible to meet demand whilst still providing a high-quality mixed-use environment and a firm eye on sustainability criteria too.
Analysis
Public transport usage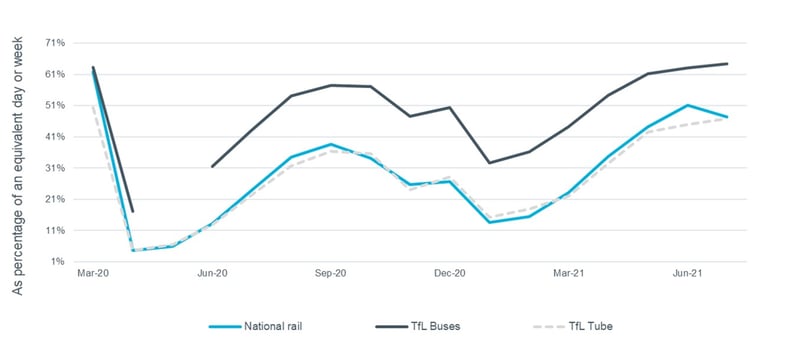 Source: Cluttons using Gov.uk official stats.
Employment and office demand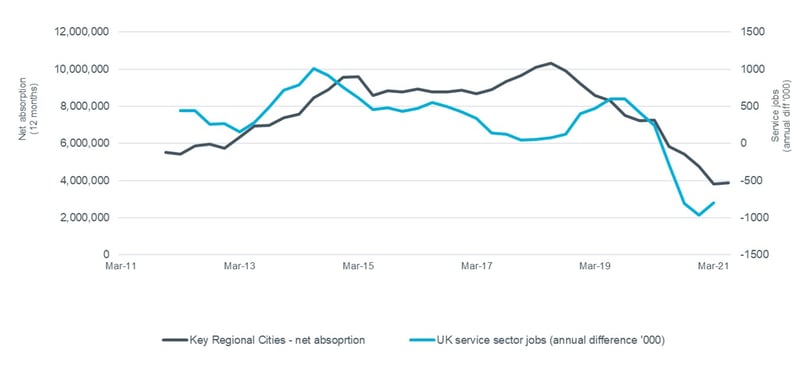 Source: Cluttons, Costar and ONS.
Key statistics Q2 2021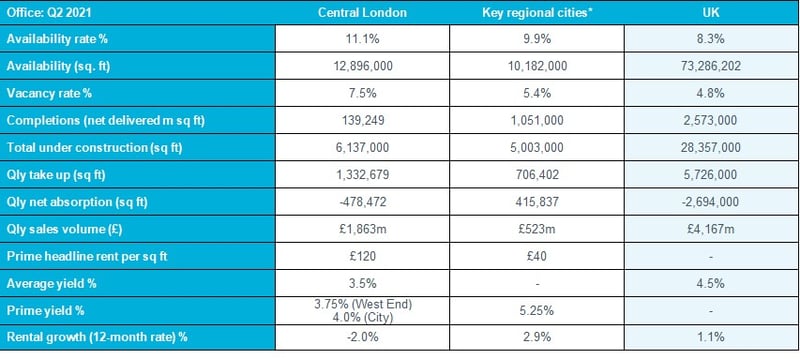 Source: Cluttons, CoStar and MSCI, *Key regional cities: Birmingham, Bristol, Manchester, Leeds
Key investment transactions Q2 2021
Source: Cluttons, CoStar and Propertydata.
Commercial market report Q2 2021
Office market report Q2 2021