Prime Central London Q1 2021

Prime Central London sales values continued to fall in Q1, but transaction numbers and stock levels were up on the same period last year which suggests increased confidence in the market. The rental market is still weak, but sentiment has improved relative to late last year.
LonRes recorded falls in sales values in Prime Central London[1], with an annual change of -2.5% in Q1, despite transactions being 16% higher. Stock levels were 28% higher than a year earlier, driven by a flurry of new sales instructions in March after the SDLT holiday was extended. Note that this is more about wider confidence in the market than the actual saving on offer for sales over £1m.
The PCL rental market remains weak, with stock levels and voids still high, although these metrics have fallen back from their Q4 peaks. Agreed rentals in Q1 were 23% lower than Q4 2020, although this level of activity was still 19% above Q1 2020.
The latest RICS survey data revealed uniformly positive sentiment, with Figure 1 summarising the results for sales and price expectations in London. The net balance of opinion for expected short-term (three month) sales activity improved from +14 in December to +46 in March, with the 12-month measure similarly positive at +42 (up from +21). The outlook for values is also good, with short-term price expectations at +43 (up from -10 in Dec) and a long-term figure of +65.
Figure 1: RICS Survey Sales and Price Expectations, London

Source: RICS Housing Market Survey (Mar 2021)
[1] PCL defined as SW10, SW1A, SW1W, SW1X, SW3, SW7, W1J, W1K and W8
The sentiment in the rental market is weaker than for sales, but somewhat improved relative to late last year. Rent expectations improved to -16 in March from -47 in December, after briefly turning positive in February for the first time in a year. Tenant demand (-24 in March, up from -37 in December) improved slightly but so did landlord instructions (-17, up from -26), suggesting any uptick in demand may be offset by more supply.
Figure 2: RICS Survey Rental Indicators, London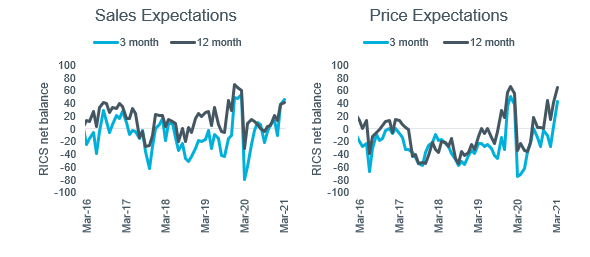 Source: RICS Housing Market Suvey (Mar 2021)
Agent view
After a slow start in January and February, new sales instructions picked up in March. Buyer demand is very strong for 'best-in-class' or unique homes but secondary stock requires significant discounting compared to where it was trading historically.
Despite weak demand, owners of investment flats continue to look to exit the sector, driven by the expectation that Capital Gains Tax could be reformed shortly (the Chancellor avoided making a change in March's Budget).
Rental values are around 20% off pre-pandemic levels in zone 1, with the lack of corporate rentals hurting the £1000+ per week markets. The roadmap out of lockdown has restored some optimism in this space and restarted interest somewhat. This has triggered an uptick in 'higher-end' rental enquires, even including international buyers using video viewings to secure homes at the current highly discounted levels. Values in rental markets more directly linked to office districts (e.g. Canary Wharf) are also showing signs of recovering as people move back into London for work.
Demand continues to be driven by opportunistic tenants taking advantage of low competition to upsize or move more centrally for the same budget. Outside zone 1, family houses to rent near green space are seeing strong demand, whereas there is a lot of supply of 1 and 2 bed flats.
The short-term lettings sector has clearly had a difficult time through the pandemic, but there are signs that some level of recovery could be on the way. This is driven by professionals who have moved their main residence out of the capital but plan to commute in for, for example, two nights a week or one week per month, and require more flexible accommodation than previously.