Prime Central London Q4 2020

There were further decreases for sales values and rents in Q4, according to Cluttons Prime Central London Index, shown in Figure 1. Although the pace of quarter-on-quarter decreases slowed, the annual falls reached 13.2% for sales and 17.8% for rents.
In both cases this means values have been falling for almost all of the past five years.
Figure 1: Cluttons Prime Central London Index

Source: Cluttons
Figure 2 shows the results for the individual PCL sub-markets. All 15 areas reported annual falls for both sales and rental values, with the only relative brighter spots the sales markets of Regent's Park and St. James's. Annual rental falls reached at least 15% in all areas.
Figure 2: Q4 2020 PCL Index: Local Results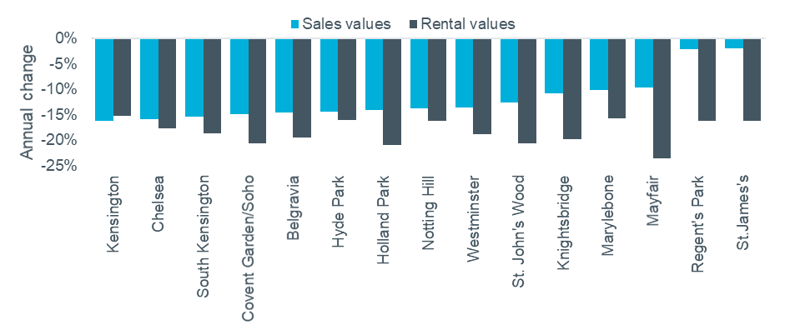 Source: Cluttons
LonRes reported that agreed sales for 2020 across all prime London areas were only 1% lower than 2019, with strong Qs 1, 3 and 4 making up for the market being closed for much of Q2. Exchanges were down 14% as conveyancing struggled to keep pace with demand in the second half of the year and the backlog of transactions is worked through.
For Q4, sales transactions in Prime Central London[1] were only 0.3% down on Q4 2019, with average achieved values 5.7% lower. There are 36% more homes on the market than a year ago, with 41% having been reduced and 78% on the market for over 3 months. Agreed rentals in Q4 were 12% lower on an annual basis, with rental values 11.4% lower and 64% more stock on the market.
Surveyor sentiment for London finished the year on a relatively optimistic note, according to the latest RICS survey data. Figure 4 shows the results for sales and price expectations in London. The net balance of opinion for expected short-term (three month) sales activity improved from -21 in September to +14 in December, with the 12-month measure even more positive at +21.
The outlook for values may be more volatile, with short-term price expectations at -10 compared to the long-term figure of +44.
Figure 3: RICS Survey Sales and Price Expectations, London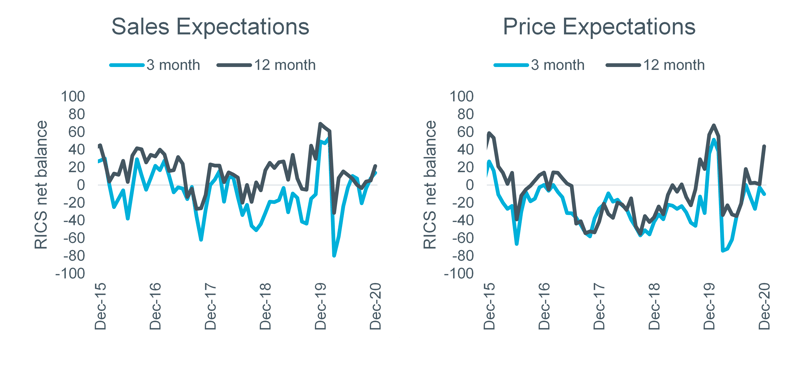 Source: RICS Housing Market Survey (Dec 2020)
There is a lot less optimism to be found in the rental market, with supply, demand and rental values all set to be lower. Rent expectations improved slightly from its record low to sit at -47, but tenant demand (-37) and landlord instructions (-26) fell again after a mid-year recovery.
Figure 4: RICS Survey Rental Indicators, London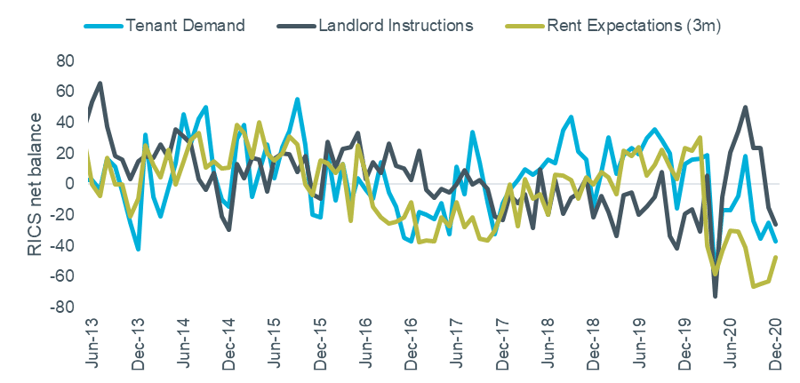 Source: RICS Housing Market Survey (Dec 2020)
Agent view: James Hyman, head of residential at Cluttons
The optimism that 2020 would see a recovery in PCL quickly dissipated once the full impact of the pandemic started to be felt.
Rental values have been directly hit the most, with very little demand from the corporate letting and international student markets. Tenants that are still in the market have been able to secure new properties with more space, particularly outside space, in an uncompetitive environment. On the supply side, private landlords continue to exit the market after many years of policy and tax changes, potentially ahead of new property wealth taxes.
Without a solid rental market, capital values have less to underpin them and have seen further falls. Again, larger homes with home office and garden space, plus those in 'leafy' areas like Regent's Park, have performed better. As well as lower demand for flats, EWS1 forms have made financing them very problematic, meaning a cash purchase may be the only way to complete a timely sale.
New instructions have been limited as some potential sellers are adopting a 'wait-and-see' approach due to fears over the safety of viewings, while some are delaying on the basis that vaccines will quickly return everything to normal. Managing expectations on this, and the difference between falling values in PCL versus the national mainstream market's 6% growth, are key to keeping the market moving.
[1] LonRes define PCL as SW10, SW1A, SW1W, SW1X, SW3, SW7, W1J, W1K and W8