UK Development review Q2 2021
Housebuilding in Q2 continued in line with pre-pandemic trends at national level. London saw stronger performance, boosted by the improving lettings market driving a recovery in activity in the Build to Rent sector.
In planning, the NPPF was updated, but with minor tweaks compared to the significant reforms expected later in the year in the Planning Bill, and the first 'First Homes' were launched.
National overview
Figure 1 compares the weekly EPC data for 2019 to 2021, with around a year passing since construction sites reopened. The chart shows that new build output over this period returned to match 2019 very closely, highlighting how the industry has recovered from the impact of the pandemic. There remains no evidence of 'catch up' for the output lost during the lockdown in Q2 2020.
Figure 1 – EPCs for new build, weekly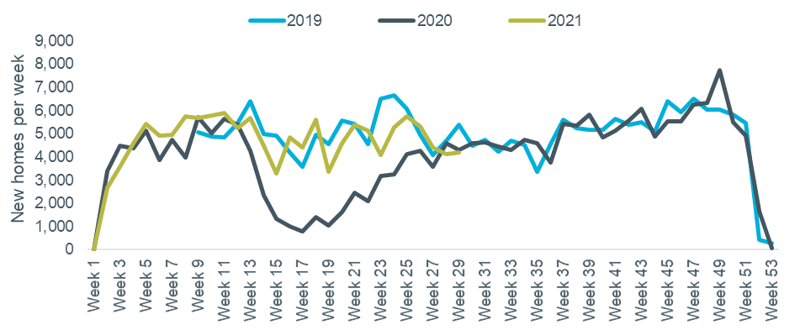 Source: MHCLG
The release of the annual Regulated Mortgage Survey (RMS) data by ONS provides insight into buyers of new homes and the types of properties they buy. Figure 2 shows the change in new build property types bought with a mortgage over time. It highlights the shift from large detached houses in the 1990s to flats in the early 2000s, then followed by a shift to semi-detached houses following the introduction of Help to Buy equity loan in 2013. It will be interesting to see if the apparent further drop in demand for flats through the pandemic is reflected in next year's data.
Figure 2 – Age of new build borrowers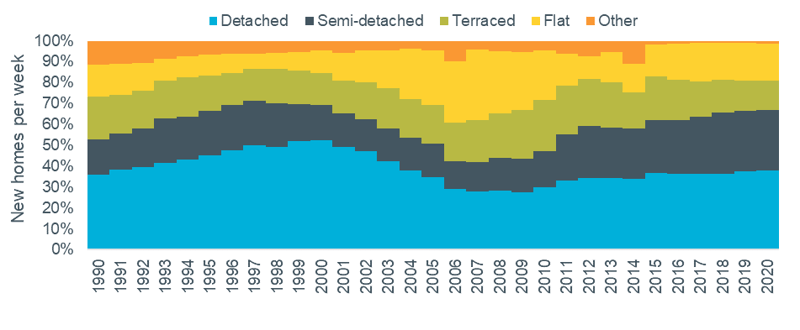 Source: ONS, Regulated Mortgage Survey – UK.
Figure 3 shows the buyer age distribution of new homes and highlights the importance of buyers aged 25 to 34 as they accounted for 46% of new build mortgages in 2020. Together with those aged 35 to 44, they account for 73% of new build mortgages with buyers aged 55 and over only accounting for 5%.
Figure 3 – Age of new build borrowers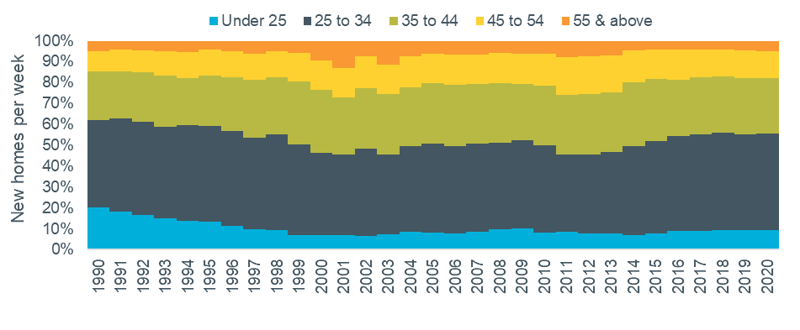 Source: ONS, Regulated Mortgage Survey – UK
Planning update
July saw an update to the National Planning Policy Framework (NPPF). The most significant changes were to Article 4 Directions on restricting change of use to residential, and the use of design codes in order to improve the 'beauty' of developments and places. More substantial planning reform is expected in the Planning Bill later this year.
The first 'First Homes' were launched in Staffordshire in early July. First Homes are a discounted market sale product priced at least 30% below market value, with the discount remaining in perpetuity. All First Homes will be limited to first time buyers, and local authorities are able to add eligibility criteria to further restrict access to groups such as key workers or local people. The pilot phase sees 1,500 First Homes funded, with up to 60,000 projected to be built across England and Wales by 2029-30.
London development
The headline figures for new build sales and development in London were strong in Q2, with the highest volume of completions for three years and starts and sales also higher than Q1, according to Molior. While the end of the stamp duty holiday provided some incentive for private buyers to conclude deals, Molior's July report noted that the return of significant activity in the Build to Rent sector was a bigger driver, accounting for over 40% of the homes completed during the quarter.
Table 1 – London development data, Q2 2021

Source: Molior
The annual time series data is shown below in Figure 4, with sales and starts relatively flat on this basis in Q2 but completions increasing sharply (due in part to the low figure from Q2 2020 now moving out of the annual calculation). In combination, this activity means there are around 55,000 units currently under construction across the capital, 10% down compared to the start of the year and the lowest figure since 2014.
Figure 4 – Quarterly development trends, London
Source: Molior
Developers are reporting 'satisfactory' sales rates, with a mix of domestic and overseas buyers, despite a lack of international travel restricting visitors and launch events. Among domestic buyers, Help to Buy continues to be an important driver of sales. With the scheme ending in early 2023, there could be an impact on the product mix started by developers in the near future, but as yet there is no evidence of this.
The recovery of the lettings market in London has sparked the Build to Rent sector back into life, with strong growth in the proportions of sales, completions and starts compared to the previous quarter.
Energy Performance Certificates for new dwellings are another measure of completions, with the latest data shown in weekly form in Figure 1. Like the national trend, this metric shows output over the past year, i.e. after the site closures during Q2 2020, approximately in line with 2019 levels. Again, there is little sign of any additional completions to make up for those delayed by the lockdown.
Figure 5 – EPCs for new build in London, weekly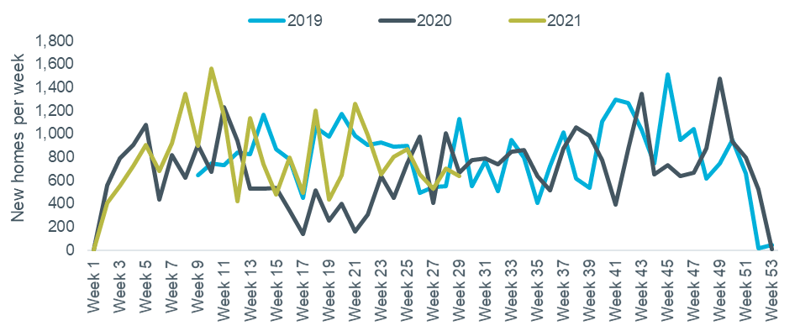 Source: MHCLG