UK rental review Q2 2021

Rents hit record highs again in Q2 at national level and, while the split between London and other regions continued, there were signs that demand in city centres is recovering.
Low levels of supply persist, with very high sales valuations potentially encouraging landlords to exit the market.
National data
Sentiment amongst letting agents in Q2 pointed to continuing strong demand and weak supply. The RICS Survey data in Figure 1 shows 'Tenant Demand' climbing to +60 in June, the highest level since the data series began in 2012, whereas 'Landlord Instructions' fell again, to -32. 'Rent Expectations' remained high at +46. The ONS index recorded growth of 1.2% in June, unchanged from March. This measures all rents paid rather than new lettings, so does not reflect the latest market conditions.
Figure 1 – Rental growth vs. RICS rental indicators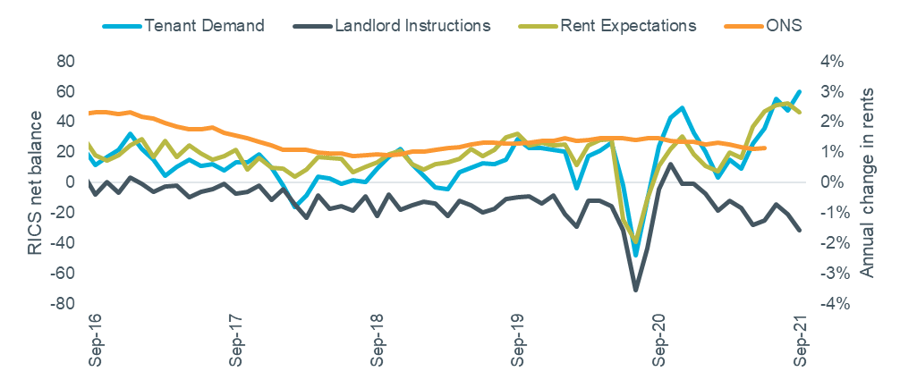 Source: RICS Housing Market Survey (Jun 2021), ONS IPHRP (GB). Note RICS data lagged 3 months.
Annual rental growth for the UK (excluding London) reached 6.2% in Q2, according to Rightmove's Rental Price Tracker, with asking rents topping £1000pcm for the first time. Average time to let fell to another record low of 21 days and available stock is 36% lower. While general demand remains high, the recovery of larger city centre markets in recent months is noteworthy; locations including Manchester, Birmingham and Bristol all posted annual growth in Q2.
Similar performance was reported by Homelet, with 8.0% annual growth in June for the UK excluding London. They explained that landlords exiting the market had constrained supply and that increased regulation was leading to higher costs, which fed through into rents.
Regional data
A summary of the latest regional rental data is shown in the table below. Rental growth is high in all regions except London.
Table 1 – Regional Rental Data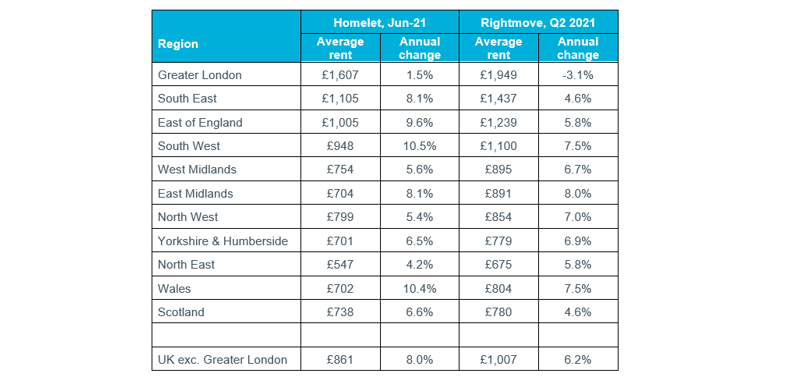 Source: Homelet Index (actual achieved rents), Rightmove Rental Trends Tracker (asking rents).
Arrears and possessions
The eviction ban ended on 31 May, with notice periods reduced to four months until 1 October, where they will return to the usual two. Previous reports have noted the potentially significant numbers of tenants at risk of eviction, either due to arrears built up or the no-fault section 21 process. The data on landlord possessions, shown in Figure 2, does not yet cover the period after the lifting of the ban. It continues to show activity well below usual pre-pandemic levels.
Figure 2 – Landlord possessions, quarterly

Source: HMCTS
While there may be an increase in the number of evictions following the lifting of the ban, new data from the English Housing Survey puts the issue into context, as shown in Figure 3. A large majority of tenancies ended because the tenant wanted to move, in the period of 2019/20 covered by the survey. Less than 10% ended solely through the landlord's choice.
Figure 3 – Reason for end of tenancy

Source: English Housing Survey 2019/20