Development review Q2 2022
At the national level housebuilding recorded a positive Q2, with output slightly ahead of recent trends.
However, issues relating to nutrient flow could hinder the planning process in some areas. In London the picture was more mixed as developers indicated waning confidence in the sales market, starting a low number of homes of which a large minority were de-risked by going to the Build to Rent sector.
National overview
Weekly energy performance certificates for new homes provide the most up-to-date indicator of new housing supply and are shown in Figure 1. Over the first half of 2022, around 130,000 new build completions were recorded, an almost identical figure to the equivalent period last year. Assuming this trend continues, this result indicates another full year with total new homes output likely to be in the 240-250,000 range (2021 = 246,000).
Figure 1 – EPCs for new build, England, weekly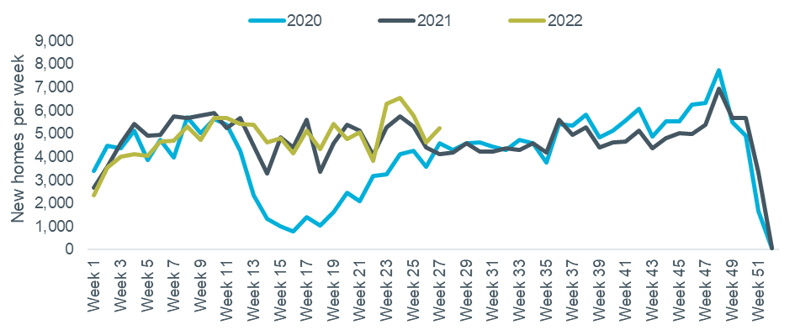 Source: DLUHC
Figure 2 shows new build activity (again represented by EPC data) plotted against total transactions, indexed to the end of 2019. Both fell by around 15% due to 2020's lockdowns but have recovered at different speeds. Overall transactions now sit 5% higher than they were pre-pandemic, having peaked at 32% higher in Q3 2021. By contrast the supply of new homes has not returned to its pre-pandemic level and are currently more than 6% below it.
Figure 2 – Total transactions vs. new supply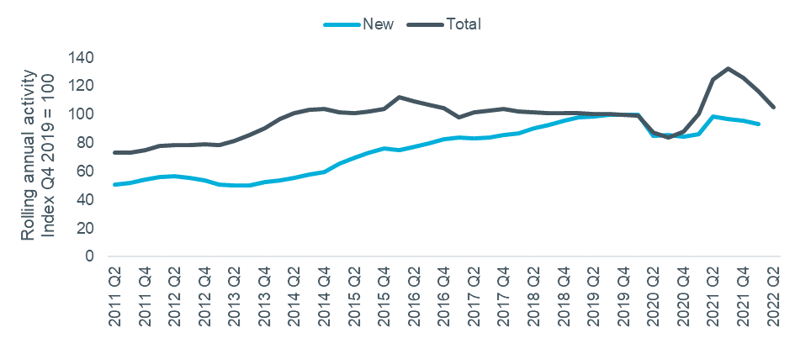 Source: DLUHC, HMRC
Nutrient neutrality
'Nutrient Neutrality' has become a serious issue for the housebuilding industry, potentially blocking the delivery of thousands of new homes across the country. The term relates to the levels of nutrients like nitrogen and phosphorus in freshwater habitats and estuaries, and how this must be maintained when development takes place.
Natural England previously issued guidance to 32 local planning authorities that development in the affected catchment areas should not go ahead unless it can be proven to not cause additional nutrient flows into protected areas. In March, they expanded the 'advice areas' to 74 LPAs, shown in the map below.
Figure 3 – Nutrient advice areas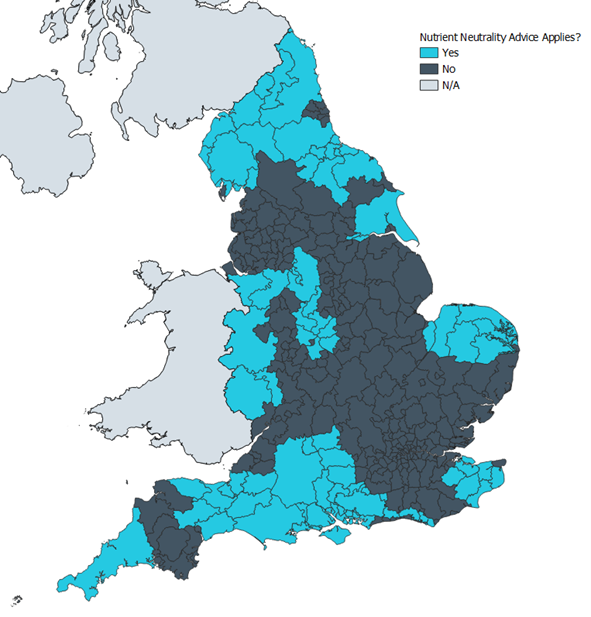 Source: Planning Advisory Service
In some cases, the whole LPA is covered by a catchment so all housebuilding is effectively on hold, pending a Habitats Regulations Assessment demonstrating the impact on nutrient levels can be mitigated.
In a report for the Home Builders Federation, planning consultancy Lichfields estimate that 120,000 new homes are being delayed by this issue, as well as noting that the impact of housing developments on nutrient flows has been overstated by Natural England. Instead, they contend that the 'vast majority of nutrients in the rivers [are] coming from agriculture or failings of the water companies'.
In July, the government announced new plans aimed and removing the block on residential development in the affected areas. These include "a new legal duty on water companies to upgrade wastewater treatment works by 2030", and "a new Nutrient Mitigation Scheme established by Natural England, helping wildlife and boosting access to nature by investing in projects like new and expanded wetlands and woodlands".
London development
Over 5,000 new home sales were recorded in London in Q2, down on last quarter's 6,000+ but approximately in line with the average over the last five years, according to the latest Molior figures. Starts fell sharply to around 3,200, the second lowest quarterly result since 2011. Over a third of those starts were in Build to Rent schemes. Completions looked more positive, with over 6,200 recorded.
Table 1 – London Development Data, Q2 2022
| | Starts | Completions | Sales |
| --- | --- | --- | --- |
| Q2 2022 | 3,206 | 6,220 | 5,099 |
| | | | |
| vs. Q1 2022 | -45% | +52% | -16% |
| vs. Q2 2021 | -11% | -3% | +15% |
Source: Molior
Figure 5 shows the annual time series data, with sales continuing their recent increase on this basis while starts and completions have fallen back slightly. Overall, around 54,000 units are currently under construction across the capital, 2% down on the end of 2021 and 17% fewer than the 2018 peak.
Figure 5 – Quarterly Development Trends, London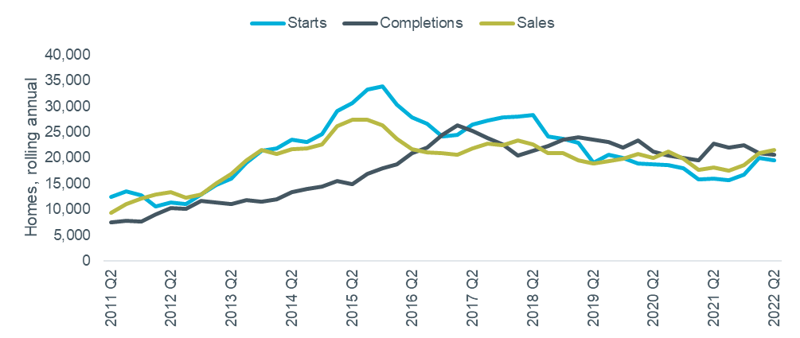 Source: Molior
The latest new build data for London based on weekly Energy Performance Certificates is shown in Figure 1. Activity over the first half of 2022 was 6% below the equivalent period in 2021, which would result in under 38,000 homes being built across the full year, compared to over 40,000 last year. However, output in Q2 was 11% higher than Q2 last year, suggesting this gap could close over the second half.
Figure 6 – EPCs for new build, London, weekly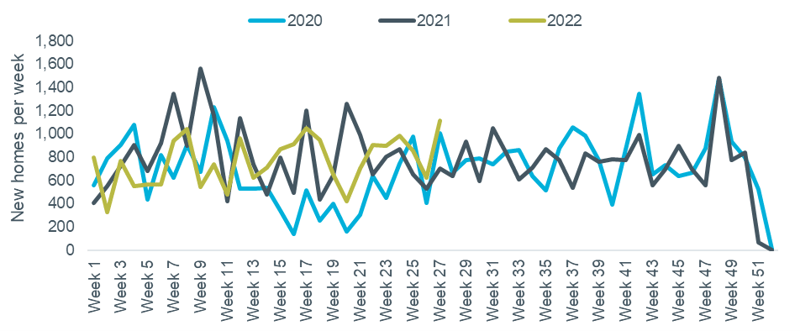 Source: DLUHC

Borough level data
The table below shows development activity by borough for the 12 months to Q2 2022 from Molior (sites with 20+ private units only), along with Help to Buy Equity Loan volumes to Q4 2021.
Table 2 – London Borough Development Activity, year to Q2 2022
| Borough | Starts | Completions | Sales | HTB (to Q4 21) |
| --- | --- | --- | --- | --- |
| Camden | 931 | 164 | 339 | 27 |
| City of London | 0 | 160 | 47 | 0 |
| Hackney | 406 | 380 | 556 | 142 |
| Hammersmith and Fulham | 411 | 360 | 546 | 31 |
| Islington | 277 | 5 | 190 | 23 |
| Kensington and Chelsea | 60 | 102 | 51 | 1 |
| Lambeth | 419 | 411 | 367 | 69 |
| Southwark | 1,505 | 343 | 1,217 | 63 |
| Tower Hamlets | 912 | 3,133 | 2,301 | 335 |
| Wandsworth | 1,293 | 1,350 | 1,266 | 145 |
| Westminster | 286 | 571 | 374 | 13 |
| Barking and Dagenham | 567 | 887 | 653 | 188 |
| Barnet | 2,283 | 1,216 | 1,576 | 298 |
| Bexley | 376 | 416 | 599 | 345 |
| Brent | 1,155 | 1,694 | 1,561 | 327 |
| Bromley | 307 | 149 | 363 | 84 |
| Croydon | 747 | 639 | 1,048 | 674 |
| Ealing | 1,124 | 1,500 | 1,388 | 306 |
| Enfield | 435 | 207 | 316 | 130 |
| Greenwich | 809 | 481 | 730 | 427 |
| Haringey | 686 | 345 | 360 | 253 |
| Harrow | 275 | 142 | 147 | 154 |
| Havering | 641 | 263 | 434 | 445 |
| Hillingdon | 235 | 500 | 455 | 382 |
| Hounslow | 483 | 1,121 | 687 | 164 |
| Kingston Upon Thames | 368 | 181 | 644 | 176 |
| Lewisham | 1,034 | 121 | 497 | 109 |
| Merton | 118 | 522 | 342 | 204 |
| Newham | 692 | 2,150 | 1,499 | 422 |
| Redbridge | 180 | 34 | 100 | 70 |
| Richmond Upon Thames | 0 | 50 | 101 | 31 |
| Sutton | 53 | 294 | 142 | 117 |
| Waltham Forest | 453 | 785 | 682 | 221 |
Source: Molior, DLUHC