Development review Q3 2022
The supply of new homes at national level was very much in line with recent trends in Q3, but the outlook is turning negative due to weakness in the wider housing market and the impending end of Help to Buy.
In London, sales figures remained healthy – supported by the Build to Rent sector – but starts and completions have slipped back from recent levels.
National overview
Weekly energy performance certificates for new homes provide the most up-to-date indicator of new housing supply and are shown in Figure 1. In 2022 to date, output has very closely followed the pattern set last year, with 196,000 homes built so far. Assuming this trend continues, this result indicates another full year with total new homes output likely to be in the 245-250,000 range (2021 = 246,000).
Figure 1 – EPCs for new build, England, weekly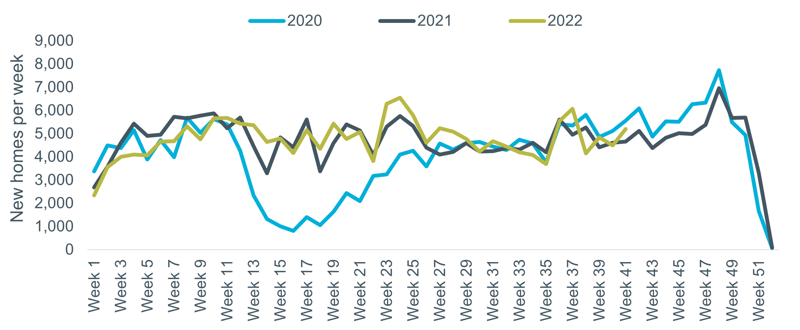 Source: DLUHC
Figure 2 shows new build activity (again represented by EPC data) plotted against total transactions, indexed to the end of 2019. Both fell by around 15% due to 2020's lockdowns but have recovered at different speeds. Overall transactions now sit 4% higher than they were pre-pandemic, having peaked at 33% higher in Q3 2021. By contrast the supply of new homes is still has not returned to its pre-pandemic level and is currently around 5% below.
Figure 2 – total transactions vs. new supply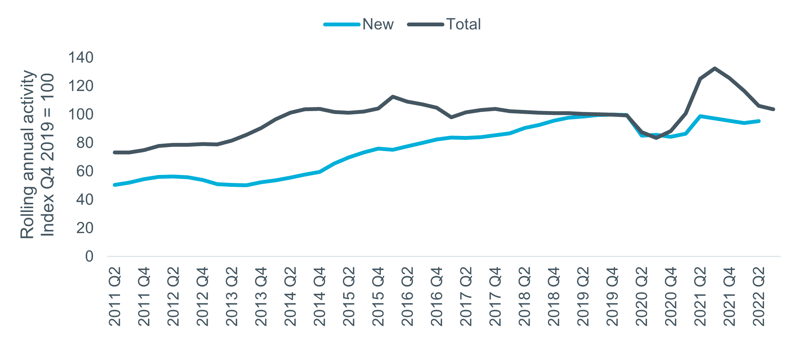 Source: DLUHC, HMRC
Help to Buy update
Before Help to Buy, private housebuilding tended to run at a level equivalent to 10% of total transactions. The chart below shows how the scheme boosted delivery above this level, particularly from around 2016. However, access to Help to Buy has now ended (the deadline for new applications was 31 October, ahead of the scheme closing at the end of March 2023) and its proposed replacement – Deposit Unlock – is unlikely to replace it to any great scale.
Figure 3 – market housebuilding and Help to Buy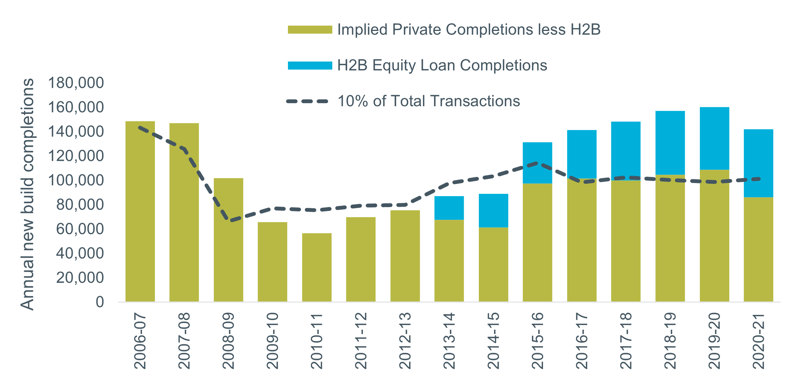 Source: DLUHC, HMRC
We saw in our Q1 report that the 2021 changes to the scheme appear to have already led to reduced take up, but the complete removal of the scheme could be coming at a very inopportune time for the housebuilding industry, with the wider market entering a weaker phase meaning underlying demand is also likely to reduce.
London development
Over 5,200 new home sales were recorded in London in Q3, a small increase compared to both the previous quarter and Q3 a year ago, and broadly in line with the average over the last five years, according to the latest Molior figures. Starts remained relatively low at around 3,600, almost a quarter lower than a year ago. Over a half (52%) of these starts were in Build to Rent schemes. Completions fell sharply to under 3,500, the lowest figure since 2014 (excluding Q2 2020 – pandemic lockdown).
Table 1 – London development data, Q3 2022
| | Starts | Completion | Sales |
| --- | --- | --- | --- |
| Q3 2022 | 3,575 | 3,427 | 5,253 |
| | | | |
| vs. Q2 2022 | 0% | -46% | +6% |
| vs. Q3 2021 | -23% | -21% | +4% |
Source: Molior
Figure 4 shows the annual time series data. On this basis, sales rose again to reach their highest level since 2018, whereas starts and completions both fell back compared to recent trends. Overall, around 54,000 units are currently under construction across the capital, 2% down on the end of 2021 and 17% fewer than the 2017 peak – 27% of these are Build to Rent schemes.
Figure 4 – quarterly development trends, London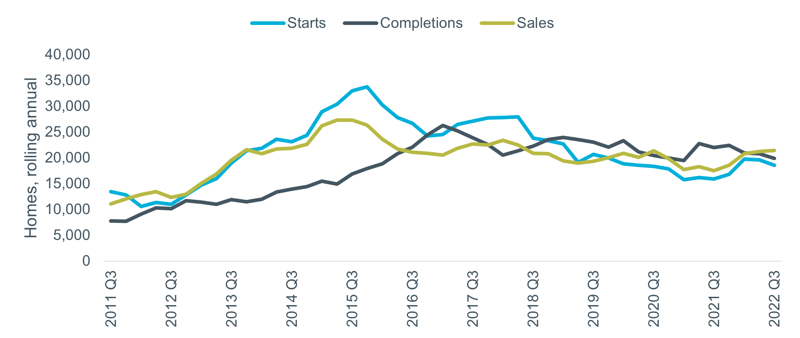 Source: Molior
The latest new build data for London based on weekly Energy Performance Certificates is shown in Figure 1. Activity in 2022 to date is 7% below the equivalent period in 2021, which would result in around 37,500 homes being built across the full year, compared to over 40,000 last year. For Q3 alone, output was 8% down on the same period last year.
Figure 5 – EPCs for new build, London, weekly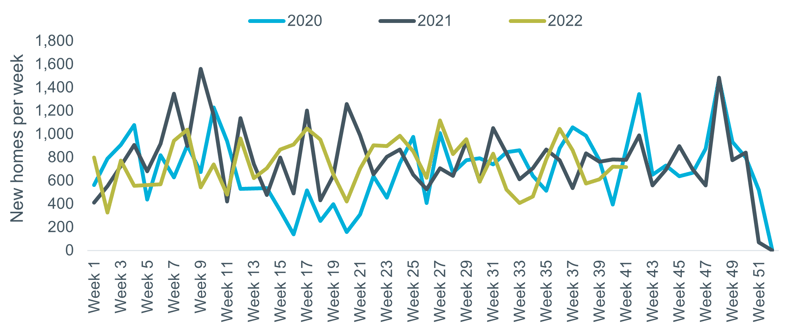 Source: DLUHC