London sales and rental review Q3 2022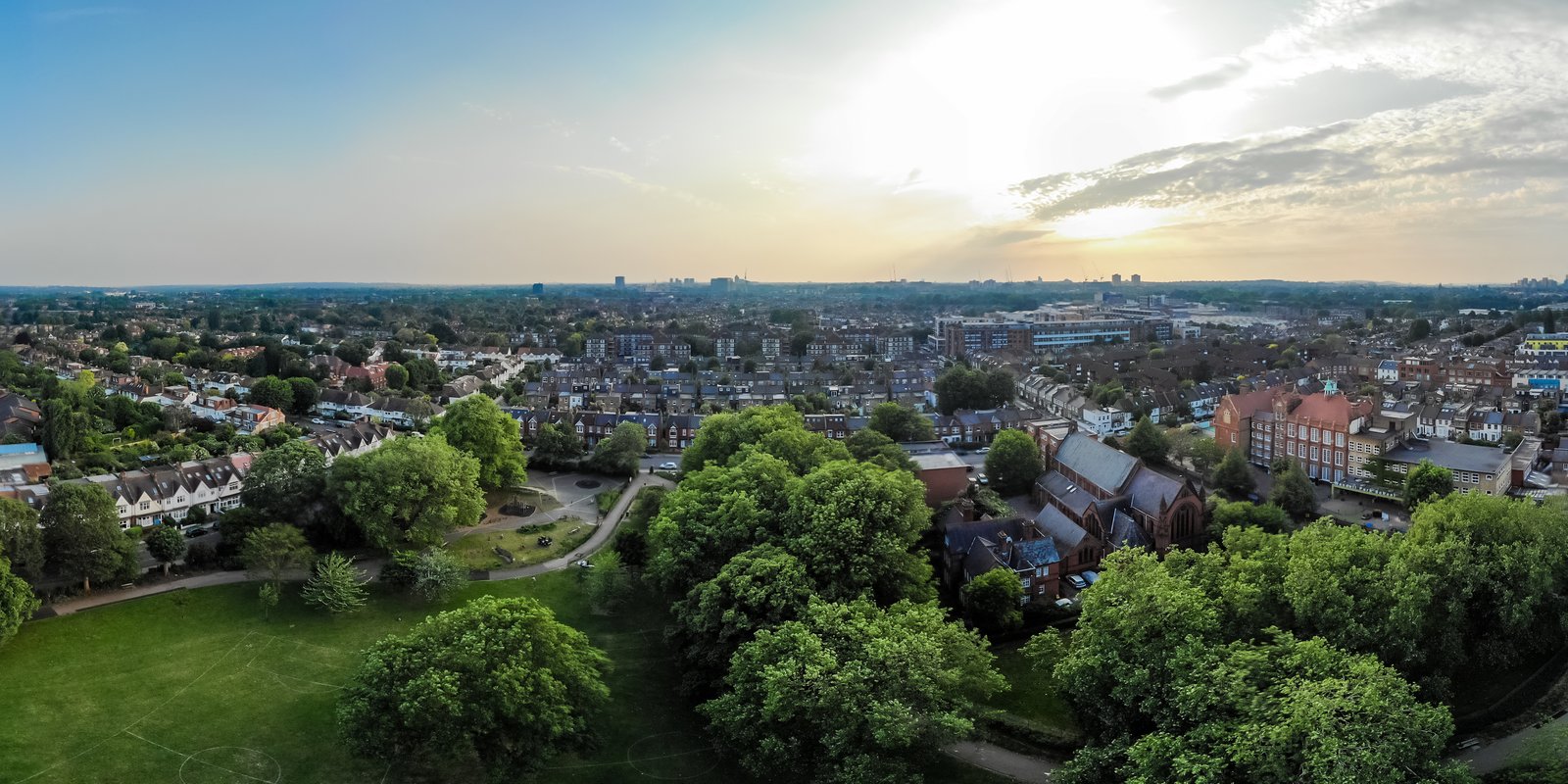 Average house prices across London continued register growth in Q3, but at a more modest rate than other regions. In contrast, rental value growth for new lettings was again very strong across the capital.
In central London the rental picture is similar, with renter demand massively outstripping the supply of homes available for let, while the sales market is more subdued.
Greater London overview
House price growth in London continued to lag the rest of the country, according to the latest August ONS index. London recorded annual growth of 8.3%, compared to 15.1% for England excluding London. The Nationwide regional indices for Q3 report similar levels of growth: 6.7% in London and 10.3% for the UK. Comparisons of transaction levels have been volatile as the effects of the various stamp duty deadlines move in and out of the annual measurement periods, but activity in London remains below the rest of the country.
Rental growth in London is outstripping growth outside the capital, according to measures which capture asking and achieved rents – as shown in Table 1.
Annual rental growth in London slowed slightly according to Homelet's September index (based on newly agreed lets) but remained in double-digits at 11%, compared to a UK excluding London figure of 9%. Rightmove's index, based on asking rents, recorded even higher annual growth of 16.1%, according to their Q3 index report, again ahead of the rest of the country (11%).
Table 1 – Greater London rental data
Market sentiment
After record-high levels of activity, price and rental growth, the outlook for the market as outlined in the RICS sentiment survey is painting a more subdued picture, with the results of the survey falling deeper into negative territory for sales and price expectations in the coming three months. A negative reading signals falling transactions and prices. However, the survey also points to the outlook brightening next year – with 12-month expectations for prices at +6, and 12-month sales expectations at -3.
Figure 1 – RICS Survey Sales and Price Expectations, London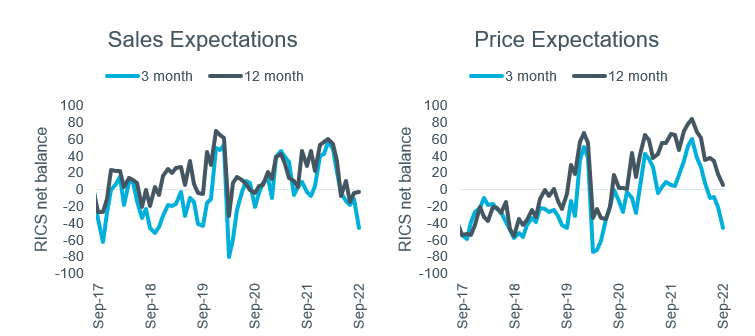 Source: RICS Housing Market Survey (Sep 2022)
Sentiment in the London rental market remained strongly positive, with the net balance for rent expectations at +52 in September, driven by the gap between tenant demand at +60 and landlord instructions at -25.
Figure 2 – RICS Survey Rental Indicators, London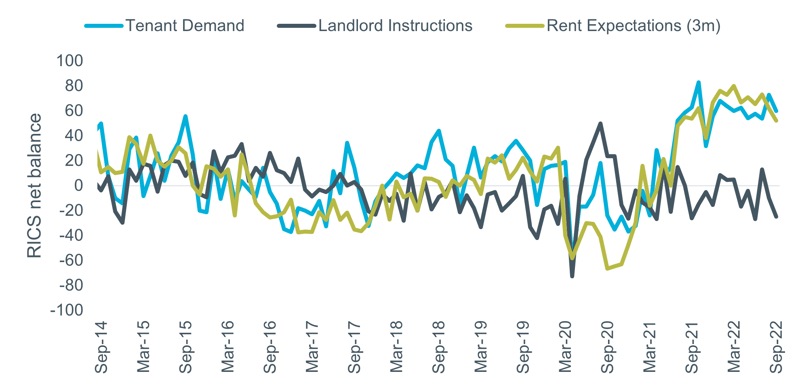 Source: RICS Housing Market Survey (Sep 2022)
Borough level data
The table below shows average values by borough for various property types, based on completed sales.
Table 2 – London Borough house prices, to Aug 2022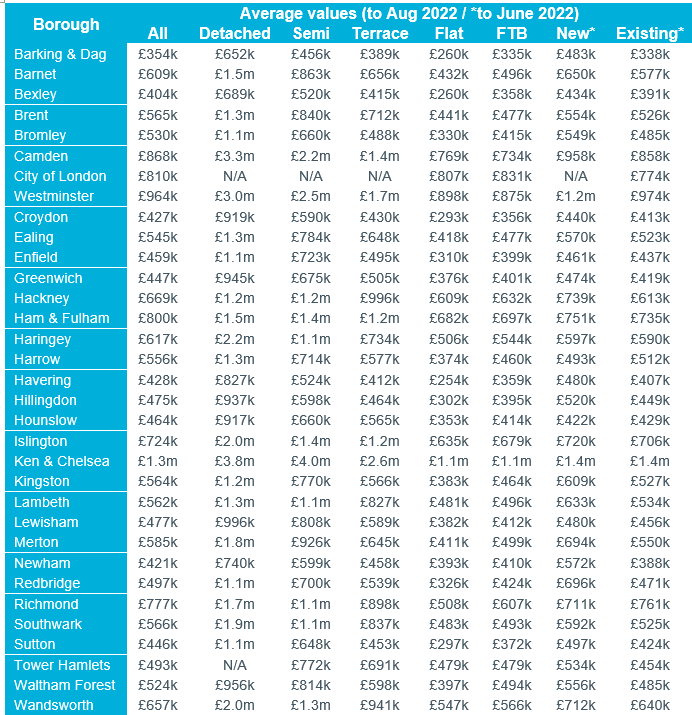 Source: ONS, Land Registry (N/A means no/low sales count). Note from Land Registry: Low numbers of sales transactions in some boroughs can lead to volatility in the data. While we make efforts to account for this volatility, the change in price in these local levels can be influenced by the type and number of properties sold in any given period.
The table below shows median by borough by size of property, based on all rents paid.
Table 3 – London Borough rental values, April 2021 to March 2022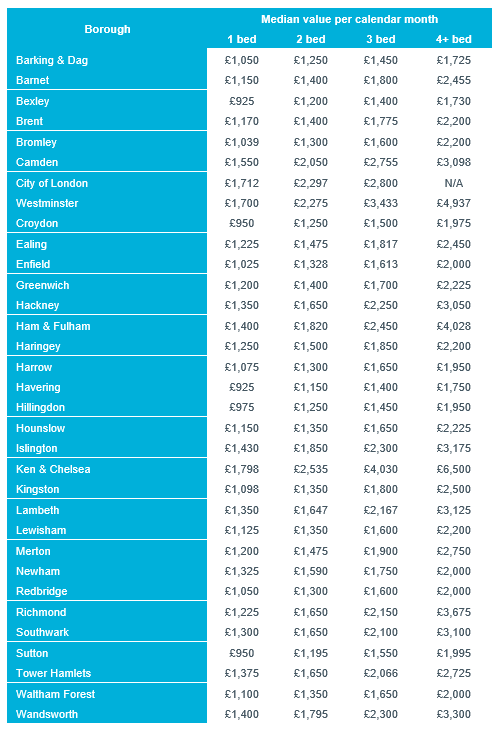 Source: ONS/VOA. Note: Updated six-monthly, no change from Q2 report.
Prime Central London
Sales values were unchanged in Q3 compared to the previous quarter, according to the Cluttons Prime Central London Index. Rents continued their strong post-pandemic recovery with a 6.8% quarterly rise. Results over the past three years are shown in figure 3. On an annual basis sales values are broadly unchanged at 0.9% above Q3 2021 whereas rents are up 12.5% compared to a year earlier.
Figure 3 – Cluttons prime Central London index

Source: Cluttons
Other indicators are slightly negative about capital values in PCL. Average achieved £ per square foot values fell by 2.3% in Q3 compared to a year earlier, according to LonRes data based on actual exchanges, but this follows stronger performance earlier in the year. Activity over that period increased by 29% and the average discount to asking price was 7.0% (vs. 7.2% last quarter). Some 19% of properties sold within three months of listing in Q3, compared to 20% in Q2.
LonRes rental data also shows a very strong PCL lettings market, with a 2% quarterly rise in values taking annual growth to 18.6%. The stock shortages seen in previous quarters appear to be easing slightly, with available properties up 31% on an annual basis, off a very low base.
Cluttons' view – James Hyman, head of agency
"The central London sales market continued to adjust to the wider economic picture in Q3, with motivated vendors accepting the need for reductions and discounts to avoid deals falling through. New instructions have picked up slightly but there are no signs yet of a glut of sellers coming to market. The currency movements making properties cheaper in dollar terms have been welcomed by international buyers, but the continued volatility has perhaps stopped this becoming a rush.
The balance of demand for 'turnkey' properties compared to those needing work has shifted – more buyers want something they can move straight into, and a price premium is opening up between the categories. Demand for flats has continued to recover across PCL.
"Notting Hill has seen particularly robust demand for houses, which have achieved some very strong £ per sq. ft. values as buyers shift westwards from Knightsbridge and Mayfair."
Lettings demand across central London remains very strong, with corporate tenants returning to the market and adding to this. Buy to let landlords have reported the additional costs and regulations of operating in that market are restricting new entrants, putting even more pressure on supply. The sharers market – typically four bed houses at £800-£1000 per week – is seeing particularly strong demand."