UK rental review Q3 2022
Average UK rents continue to rise strongly, with double-digit growth in most regions in Q3.
High demand and stock shortages are driving this rental growth across the nation, with the problem particularly acute in London. Agent sentiment suggests these market conditions will continue into 2023.
National data
Sentiment around the rental market was broadly unchanged in Q3, with demand staying strong and new supply not keeping pace. The latest RICS Survey results showed 'Tenant Demand' at a net balance of +42 in September (+36 in June), with 'Landlord Instructions' at -13 (-11 in June). 'Rent Expectations' were at +44, a small fall from +52 in June, and the rental growth recorded by the ONS rental index reached 3.6% annual, its highest level since the series began in 2012.
Note that the ONS index measures all rents paid rather than new lettings so typically underestimates rental value growth among new listings; 3.6% is a very large increase in this context.
Figure 1 – Rental growth vs. RICS rental indicators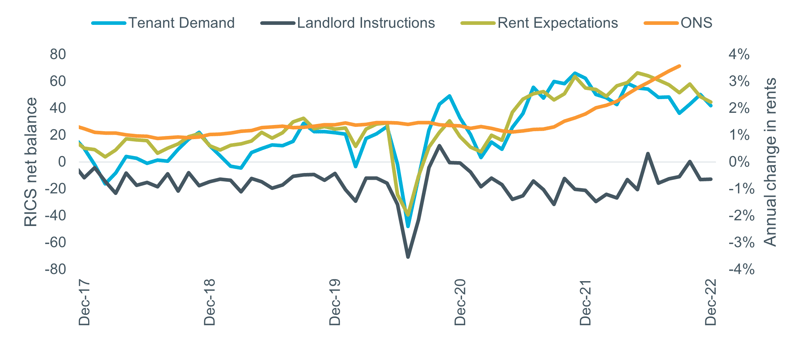 Source: RICS Housing Market Survey (Sep 2022), ONS IPHRP (GB). Note: RICS data lagged 3 months
Rightmove's Q3 Rental Price Tracker again reported annual growth in asking rents of more than 10% both nationally and for all regions. Annual growth in London accelerated to a record 16.1% after a 3.8% quarterly rise. This is driven by continued low supply, particularly in Inner London where annual growth was even higher at 19.3%. UK annual rental growth for new lets is at 2.3%, according to Zoopla's latest Q3 Rental Market Report, with the stock of available homes 46% below the five-year average.
Regional data
A summary of the latest regional rental data is shown in the table below.
Table 1 – regional rental data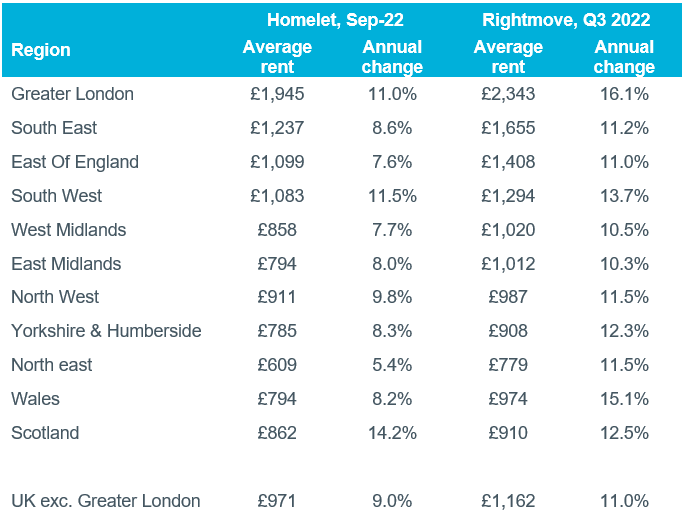 Source: Homelet Index (actual achieved rents), Rightmove Rental Trends Tracker (asking rents)
Arrears and possessions
Landlord possession claims and actual repossessions remained at around 50% of their pre-pandemic level in Q2. Claims issued in Q2 fell back slightly to 18,201, 55% of the 2015-19 average. Repossessions increased to 4,900, 54% of their previous typical level. The historical trends are shown in Figure 2.
Figure 2 – Landlord possessions, quarterly

Source: HMCTS
There was some confusion around the potential introduction of the 'Renters Reform Bill' after the government failed to commit to ending Section 21 evictions in early October. However, it has since been confirmed by the Secretary of State that the bill will come forward in this parliament.