UK sales review Q3 2022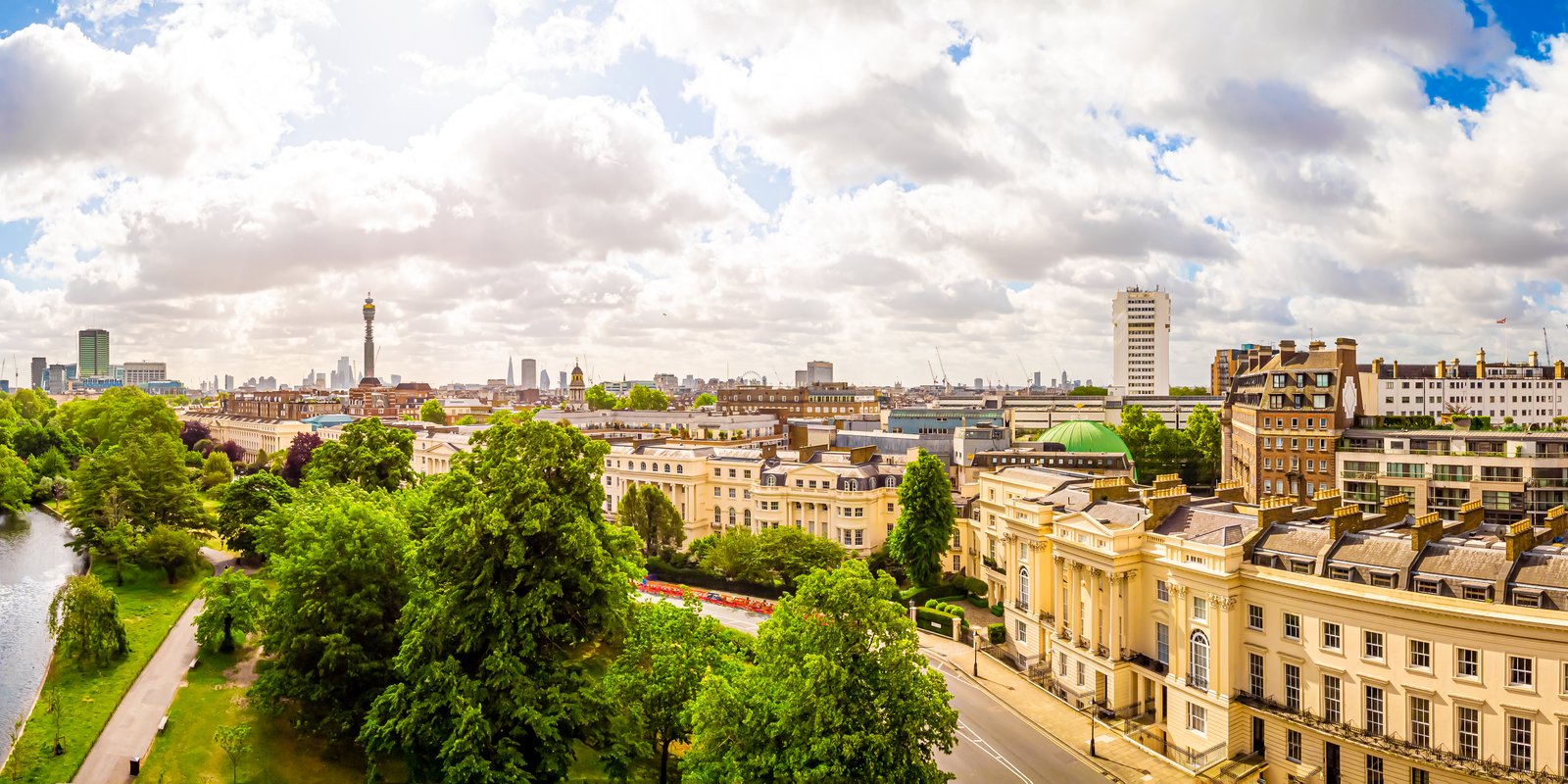 House prices are still higher year-on-year, and activity levels remained relatively solid in Q3. But there are widespread signals that the market has reached a turning point.
Significant increases in borrowing costs and inflation eating into real disposable incomes mean that price growth and activity levels will slow through the rest of the year.
Monthly data
There were over 74,000 mortgage approvals for purchase in August according to the latest Bank of England data, the highest level since January, although this declined to 68,800 in September. Nationwide's UK house price index reported a monthly drop in house prices in September, taking annual growth back to 7.2%. Longer-term trends for both series are shown in Figure 1.
Figure 1 – UK house prices and mortgage approvals, monthly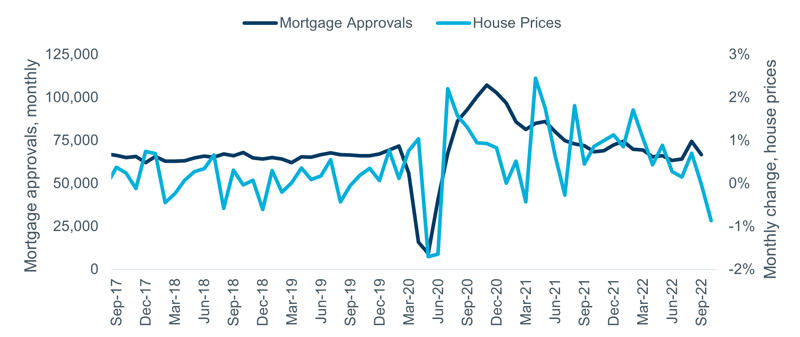 Source: Nationwide HPI, Bank of England. Note: both seasonally adjusted
Transaction trends
Sales activity in Q3 settled back to a more consistent level, broadly in line with pre-pandemic trends of around 100,000 transactions per month, according to the latest HMRC data. Given the very high levels of activity seen in 2021, this equates to a decline of more than 20% year-on-year but remains 2% above the 2017-19 average.
Similar levels of change are indicated by the ONS data, which is only available up to June due to their lag in reporting completions (note that the latest months are likely to be revised upwards).
Surveyor sentiment suggests further falls in activity could be coming over the closing months of 2022 and into next year. The RICS net balances for 'Agreed Sales' and 'Sales Expectations' both moved lower through Q3, reaching -27 and -30 respectively.
Figure 2 shows the survey metrics plotted against the two measures of actual transaction levels. In the past these results, when 'lagged' by nine months, have been a good predictor of short-term trends in activity.
Figure 2 – actual transaction levels vs. RICS sales metrics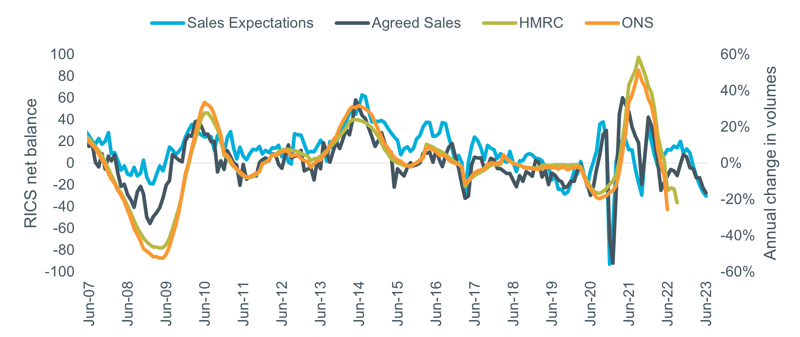 Source: RICS Housing Market Survey (Sep 2022), HMRC, ONS UK HPI. Note: RICS figures lagged 9 months. RICS and HMRC figures seasonally adjusted
Data from the main portals also pointed to lower transactions in the near term. Rightmove's October index report noted buyer demand in the first two weeks of the month falling by 15% compared to a year earlier, with first time buyers particularly hit by the increased cost of borrowing. Their measure of time to sell increased slightly, from 32 days in June to 37 in September.
Zoopla's September index report stated that the market is "transitioning to a buyers' market" as costlier mortgages impact on activity, but sales volumes are currently holding up. Their demand measure for September is 8% higher than the five-year average, with new supply only growing by 4% on the same basis.
Table 1 – Zoopla Market Metrics, four weeks to 18/9 vs five-year average
| | |
| --- | --- |
| Demand | +8% |
| Sales Agreed | +3% |
| Flow of New Supply | +4% |
| Stock of Homes for Sale | -21% |
Source: Zoopla September Index
House prices
House price growth at national level showed signs of slowing in Q3 according to both the ONS and Nationwide indices, although the annual growth figures are still high. Annual growth in Nationwide's October index eased to 7.2%, taking average values back to levels seen in April. . The latest ONS index (August) was higher at 13.6% but this was down from 16% a month earlier. The index results are shown in Figure 3, alongside RICS sentiment survey results for pricing.
The leading indicators from the RICS survey suggest a further slowdown in growth over the coming months, potentially leading to price falls. The net balance for 'Achieved Prices' fell to +32 in September (from +64 in June), falling below +50 for the first time in over two years. 'Price Expectations' dipped again, to -33 in September, compared to +1 in June, and the lowest figure since May 2020.
Figure 3 – actual value changes vs. RICS price indicators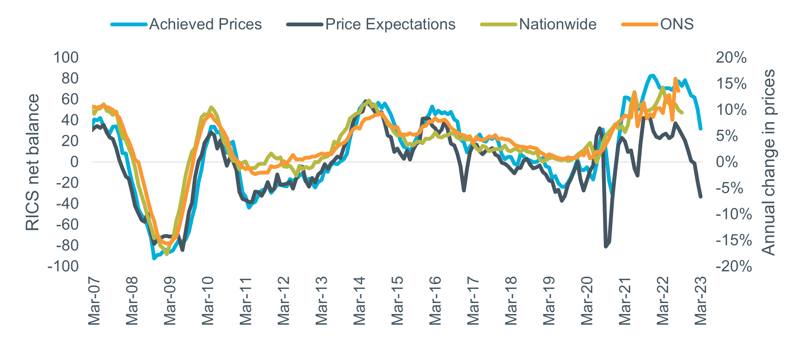 Source: RICS Housing Market Survey (Sep 2022), Nationwide, HPI, ONS UK HPI. Note: RICS data lagged 6 months
Rightmove's October index recorded a further rise in UK asking prices, although the pace of annual growth slowed to 7.8%. The portal expects asking prices to drop over the remainder of 2022, although will not commit to a specific forecast until the current economic volatility settles down.
Zoopla's latest index reported a similar level of UK growth (8.2% annual rise) and also noted that recent rises in the cost of borrowing, as well as wider cost-of-living pressures, are likely to reduce buying power going forward.
Outlook
Rising energy costs and increasing interest rates were already starting to exert pressure on the housing market during the summer. The events around the 'mini-Budget' of 23rd September and the subsequent political fallout accelerated aspects of that process and increased the uncertainty in the market. Interest rates expectations rose and mortgage rates also climbed sharply after rises in money market rates which determine the pricing of fixed-rate home loans.
The relatively smooth appointment of Rishi Sunak as Prime Minister has settled the markets, bringing gilt rates back down to pre-'mini-budget' levels.
Yet strong economic headwinds remain, especially as the Bank of England raised the base rate by 0.75% in November, taking it to 3%, the highest base rate level in more than a decade.
Rising mortgage rates amid a worsening outlook for the economy and rising cost of living will affect market activity through Q4 and into 2023. Higher rates will lead to higher repayments for those taking out new mortgages, limiting the size of mortgage new borrowers can access. The impact of this will be particularly felt where house prices are higher, in London, the South East and South West of England. In more localised markets where there is more equity and more higher income buyers, the impact may be offset to some extent.