Commercial market update Q1 2022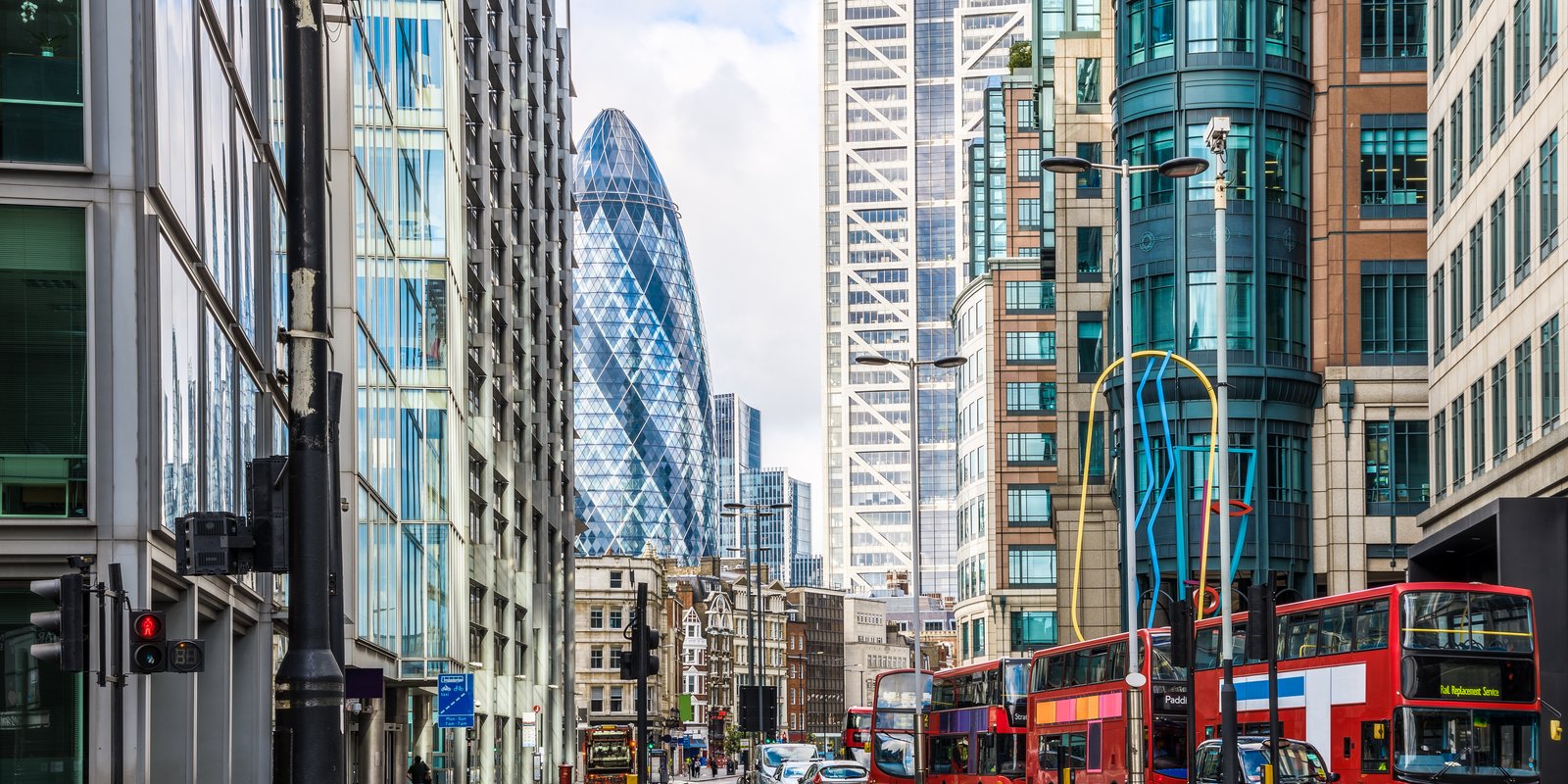 The commercial real estate sector has been through an extraordinary year, outperforming other asset classes with total returns of 23.9% over the past 12 months.
But in recent weeks the economy has been downgraded, inflation has remained high, and consumer confidence has taken a hit – investors and occupiers alike will need to understand the potential impact.
Real estate outperformance
The commercial real estate sector has been through an extraordinary year with total returns of 23.9% in the 12 months to end March 2022. Whilst this does in part represent a bounce back from the downturn in performance through Covid property has outperformed other asset class through this period (listed real estate 21.8%, FTSE 350 +13.2%, Index linked Gilts -4.6%, and MSCI All Property 23.9%) and also over the last 5 years.
The economy is changing rapidly
Investors and occupiers alike need to understand what inflation and a slowed economy means for them particularly those exposed to the weakening consumer sector. Over the course of the last few weeks the outlook for the economy has been downgraded and further downgrades are possible. That said, with scarcity of prime assets, especially from an investment perspective, demand for this end of the market will be more secure.
War in Ukraine
By far the highest profile event over the last quarter, the Ukraine war now looks set to be a lengthy conflict. Focusing on the economic impact, war in itself is a source of uncertainty, but as long as it doesn't spread through Europe then the most likely economic impact will be through supply chain constraints and exaggerating inflationary pressures – with likely implications for higher interest rates.
Interest rates
The outlook is changing rapidly and consensus economic forecasts released in mid-April already feel out of date. At the early May MPC meeting the Bank of England suggested the outlook was much weaker than even these recent consensus forecasts. Their expectations are now for annual average GDP growth of -0.2% in 2023, noting that only a few weeks ago the consensus was for 1.6%. The danger here is that inflation becomes more persistent than transitory.
HM Treasury Consensus (released mid-April)
GDP
(annual average %)
Inflation: CPI (annual average %)
Interest rates
(end Q4)
2022
4.1%
6.6%
1.16
2023
1.6%
2.4%
1.46
HM Treasury, ONS and Bank of England
Risk premium over bonds falling
Interest rate increases, so far, have had limited impact on the market given the propensity for many debt investors to hedge against them, and rate hikes have been modest to date. Even whilst borrowing is still very cheap by historic standards real estate yields have moved to match that low interest rate environment. The 10-year bond rate which has now risen to 1.8% which means for property the risk premium over the risk-free rate has shrunk to the lowest since mid-2011 for some segments of the market.
Real estate spreads over 10 year bond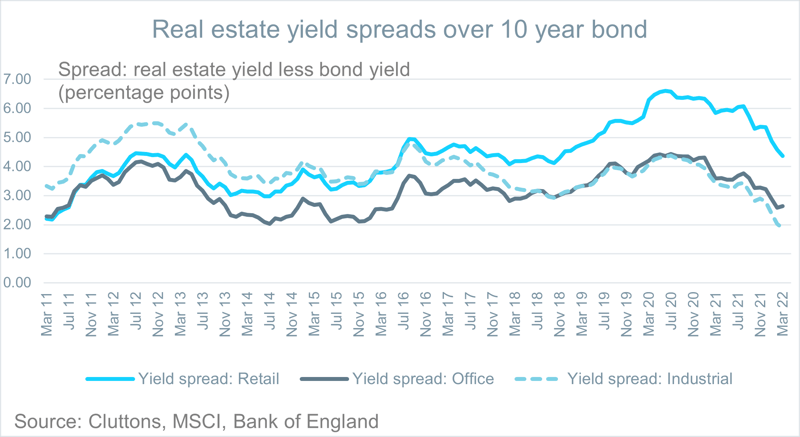 Source: MSCI, Bank of England
Household squeeze
Office of Budgetary Responsibility forecasts are suggesting that real household disposable income will see its worst fall since the 1950s. It is no surprise that consumer confidence has taken a hit, according to GfK in April 2022 confidence hit its lowest level since July 2008. Indeed, this confidence level is the second lowest since records began.
London tops the table
London has moved up one place in the PwC Emerging Trends Europe survey to become the most favoured city for combined investment and development prospects for the year ahead, with a degree of positivity reflected by a score well ahead of Berlin's winning figure last year. It retains its status as a global gateway while being seen as better value than other locations. We also know from prior cycles that in times of geopolitical uncertainty locations like London benefit from a flight to quality.
Commercial market update Q1 2022