Industrial market update Q2 2022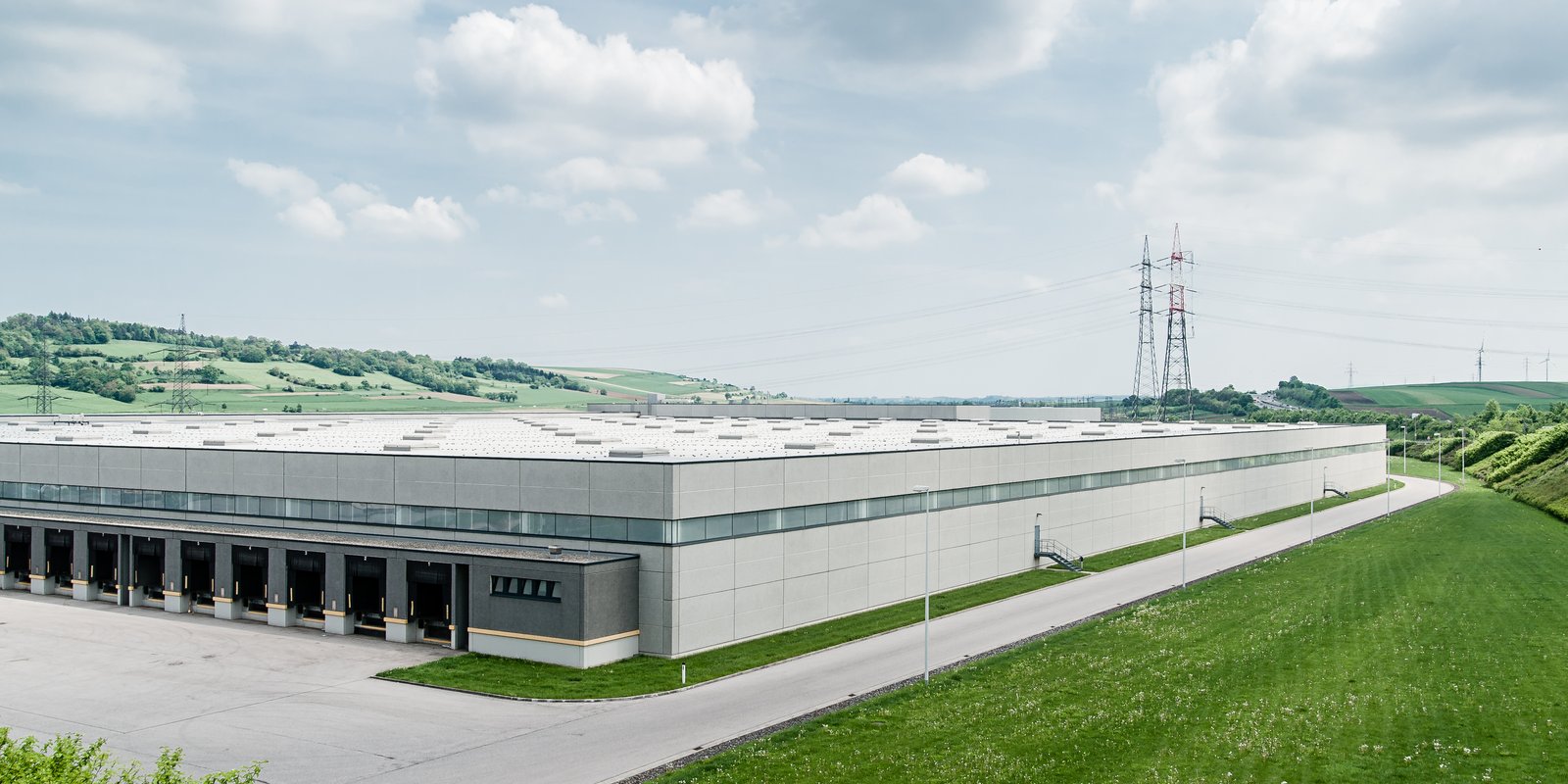 Average industrial yields largely held steady for Q2, with the South East at 2.9% and the rest of the UK at 4.2%.
Likewise prime yields held steady at 2.75% (within the M25). Since then, there has been gathering evidence that investors are pausing and reconsidering yields. This is likely a more cautious outlook for the sector against the economic backdrop but also evidence that even the strongest bull run will eventually find some form of equilibrium.
Investment sales had already slowed over Q2 following on from six consecutive quarters of high volumes. Notable deals still happened over the quarter; Cromwell Holdings purchased in Milton Keynes on a 3.1% yield and Valor Real Estate in Witton Birmingham on a 2.9% yield.
Low vacancy rates constrain take-up
Take-up has dipped fairly sharply since the start of the year, with logistics showing a sharper adjustment than light industrial, even within the M25. An explanation for the fall in take-up is revealed in the vacancy data. On the back of such strong demand vacancy rate is below 4%. Put simply, it is hard to take-up space that does not exist. A look at the new construction pipeline suggests that this situation is unlikely to persist, with more space under construction today than at any time in the last 10 years – London is the only exception.
In this environment of still strong demand and low vacancy rates rental growth remains strong, running above 8%. There are signs that light industrial rents may have topped out and certainly with increasingly higher rents charged occupier margins will be squeezed across logistics and light industrial, particularly as their other expenses are likely to be suffering large inflationary increases too.
Amazon cuts back in the US
In the United States, Amazon has recently cancelled several projects, the first time it has done this, and it was surprising enough to make headlines even beyond the financial and real estate press. It is too early to read anything significant into this, but it must surely give investors pause for thought. Certainly, its share price has suffered, falling 22% in the last 6 months. Further, the share prices of logistics companies have also fallen significantly over the last six months. Segro has fallen 19%, suggesting a more cautious outlook by investors.
Electricity capacity hits a roadblock
On 24 May the Greater London Authority wrote to planners in Ealing noting that housebuilders were facing delays in getting new schemes connected to electricity supplies and that new capacity could be 5 years away. This is caused by the boom in data centre construction and, although couched in reference to housing, the grid problem potentially impacts all users, and given the significance of logistics to the Heathrow catchment, should be monitored closely.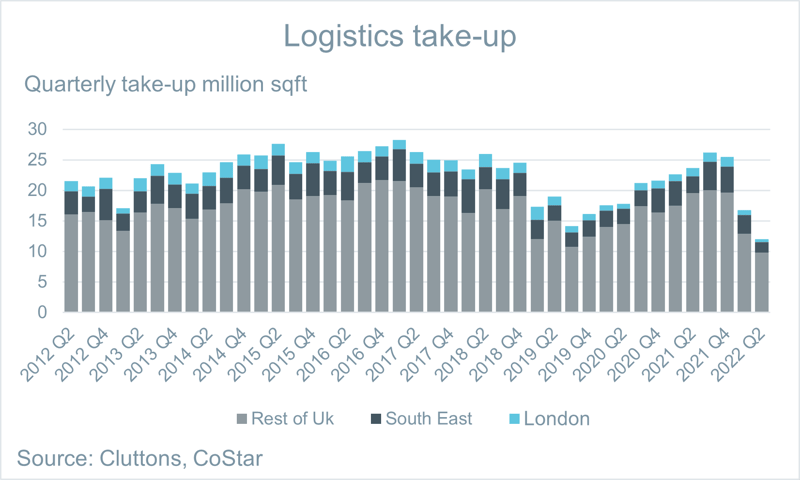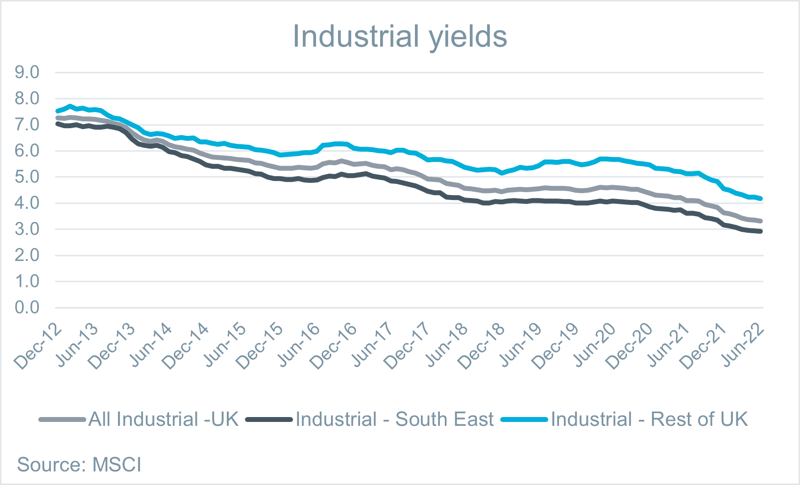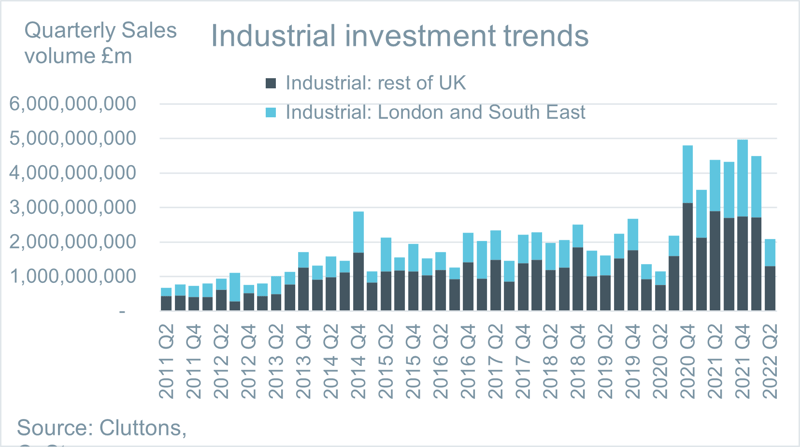 Industrial Q2 2022
UK

London &
South East

Distribution, multi-let estates and specialised industrial
Current quarter
(last quarter / 5yr ave)
Current quarter
(last quarter / 5yr ave)
Occupier
Availability rate (%)
5.3%
(5.1% / 5.7%)
6.1%
(6.0%/5.6%)
Vacancy rate %
3.4%
(3.3% / 3.2%)
3.7%
(3.7%/3.0%)
Rental growth (12-month growth rate)
9.0%
(8.4% / 6.2%)
9.5%
(8.4% / 6.4%)
Quarterly take up (sqft)
14.7m sqft
(19.4 / 24.1m)
2.8m sqft (4.6m / 5.5m)
Supply
Completions (net delivered sqft)
6.1m sqft (11.2m / 10.5m)
0.9m sqft (3.0m /2.1m)
Total under construction (sqft)
89.0m sqft
(86.5m / 52.9m)
15.2m sqft
(14.1m /10.3m)
Investment


Quarterly sales volume £m
£2,088m
(£4,994m / £2.702m)
£785m
(£1,771m / £986m)
Average yield
3.3%
(3.4% / 4.3%)
2.9%
(3.0% / 3.8%) *
Prime yield (rack rented)
3.5% (Prime regional)
2.75% (within M5)
Source: Cluttons, CoStar * Yields for industrial in South East
Industrial: Key investment transaction
Property Address
Town /City
Building size
(sqft)
Sale Price (£m)
Net Initial Yield
Buyer
Zephyr Park Rainham Road Dagenham
London
172,000
£81.5m
3.85%
JD.com
Yeoman's Drive
Milton Keynes
365,910
£58.1m
3.13%
Cromwell Holdings
The Hub, Witton
Birmingham
251,662
£52m
2.87%
Valor Real Estate Partner
Bradwell Abbey Ind Estate
Milton Keynes
335,000
£62m
c4.2% (gross)
Warehouse REIT plc
Source: Cluttons, CoStar, Propertydata
Industrial market update Q2 2022