Retail market update Q2 2022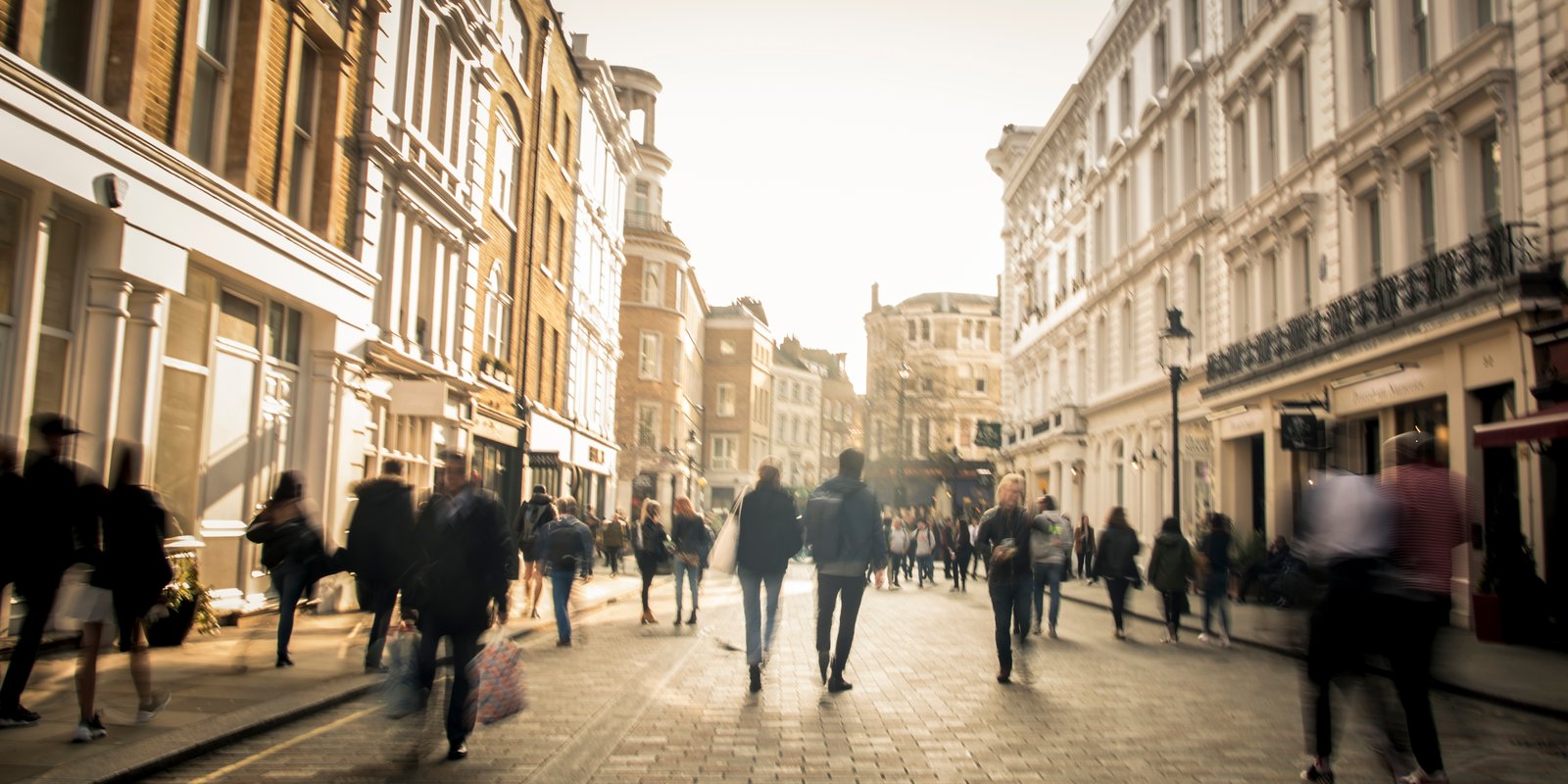 Will recession torpedo Covid recovery?
With nobody even trying to deny that there is a cost-of-living crisis, and consumer confidence lower than during the pandemic and GFC, it is little surprise that following a bounce-back in retail sales mid-2021, sales volumes have been stalling and now falling, as prices rise. Consumers are having to scale back on the amount they buy, getting less and less for their money.
While it is reasonable to suppose that the top end of the market will be less affected than the mass market, this is a rather small pool within the larger retail market.
Limited recovery in High Street yields
The sector has not enjoyed the post-Covid bounce back in other parts of the retail market – this is no big surprise given the worries over the future of the high street. So, it takes something very specific and well targeted to get investors interested but for strong-performing locations (like Guildford and Cambridge) at the right price (sub £5m) there is still good interest from a range of buyers. A deal on Clarence Street in Kingston was reported on a 6.7% net initial yield this quarter.
For retail warehouses yields the bounce back has been much more significant. Yields strengthened over the course of Q2, standing at 5.5% average and 4.75% prime at quarter end. The threat here is the narrowing gap with the logistics sector (which whilst relatively healthy for now is a metric investors are increasingly acutely aware of) and the narrowing yield spread relative to bonds. Since June yields have been under pressure, easing a little.
Retail rents are mostly now at least stable
It is the high street that stands out as still having some recovery to do, and it is this sector that seems most vulnerable to recession-led retrenchment. Rental growth over the last 12 months is still down (-4.4% over the year) but over the last three months has stabilised (-0.3%). Whilst a rosier picture, there hasn't been much rental growth to write home about in the retail warehouse sector either (+0.3% last three months and +0.8% over the last 12 months).
Investment sales volumes dip sharply
Making it difficult to avoid an image of a market holding its breath after a period of strong investment in retail warehouse and at least relative stability on the high street. In Q1 2022 there was £1.6bn of investment sales in the retail sector, this dropped to £480m in Q2.
Alternative uses for retail warehouse useful safety net
There is a continuing theme that retail warehouses are in more favour with investors as they are underpinned by alternative uses (conversion to logistics in particular). Given that some big box retailers have reported stalling sales – particularly of white goods so far but likely to become a more widespread picture as the cost-of-living crisis continues – this may prove an attractive safety net. Retailers' profit warnings and share price declines add extra weight to this argument. For instance, Currys' share price has fallen 40% in the last six months.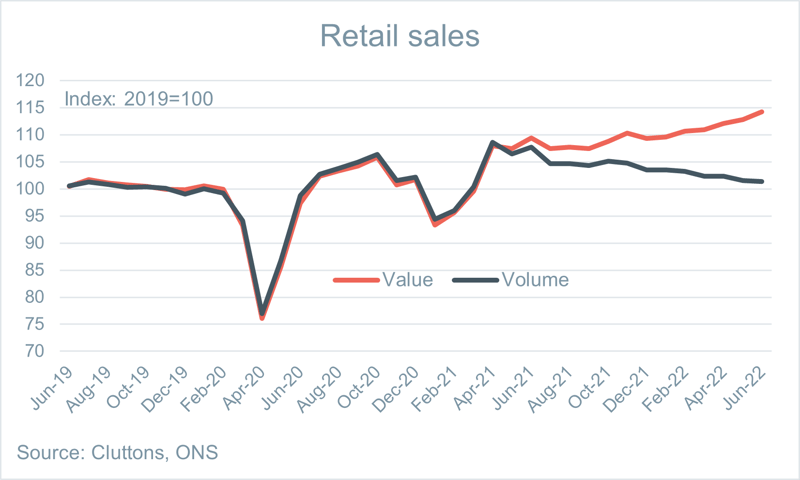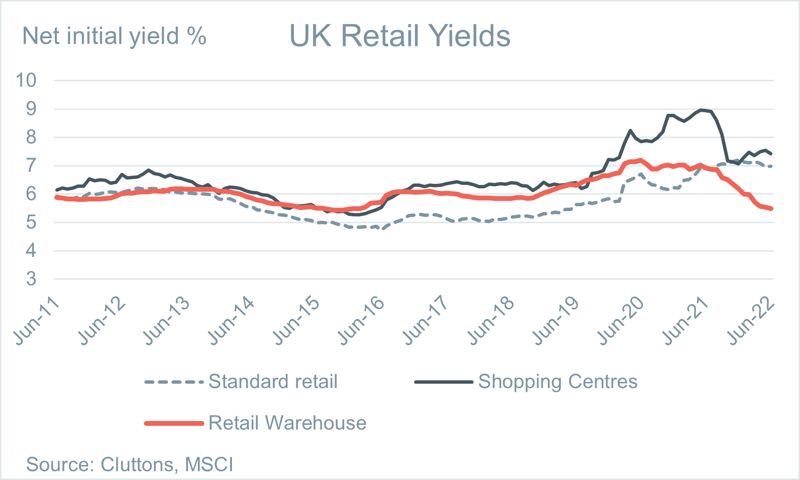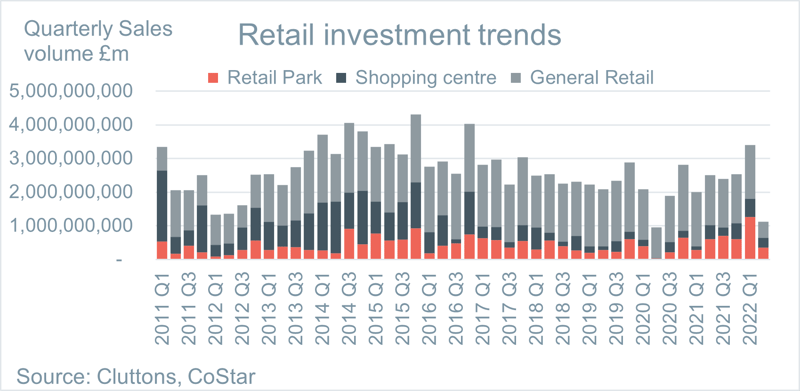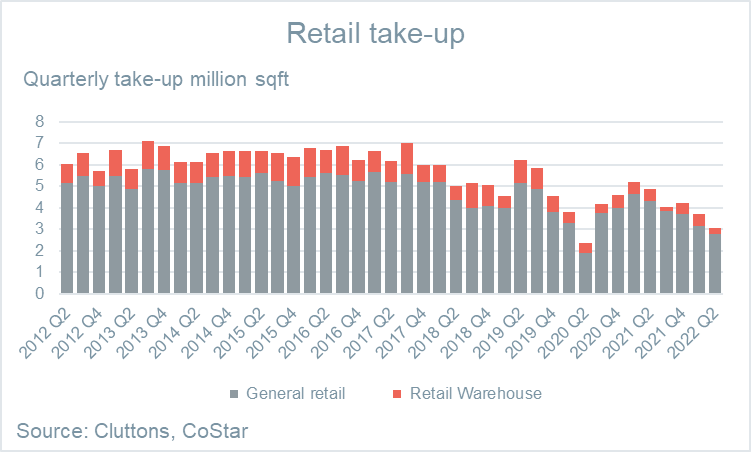 Retail:
Data to end Q2 2022
High Street retail / general retail
Retail warehouse
/ retail park
Current quarter
(last quarter / 5yr ave)
Current quarter
(last quarter / 5yr ave)
Occupier
Qly take up (sqft)
2.8m sq ft
(3.1m sqft, 4.1m sqft
288,300
(598,000, 693,000)
Rental growth (12-month rate) %
-4.4%
(-7.5%, -6.0%)
0.8%
(0.6%, -3.2%)
Supply
Completions (net delivered m sqft)
367,000
(1.0m, 1.8m)
0-
(110,000, 157,000)
Total under construction (sqft)
7.3m sqft
(7.1m sqft, 8.2m sqft)
114,000
(114,000, 570,000)
Investment
Qly sales volume (£)
£481m
(1,593m, 1,574m)
£355m
(£1,260m, £447m)
Average initial yield %
7.0%
(7.2%, 6.1%)
5.5%
(5.7%, 6.4%)
Prime yield %
6.0%
(city/major regional)
4.75%
Source: Cluttons, CoStar
Retail: key investment transactions
Address
Location
Building size sqft
(sub-sector)
Sale Price
(£m)
Net Initial Yield
Buyer
61-67 Clarence Street
Kingston Upon Thames
6,295 (retail units)
£5.675
6.69%
Undisclosed
Bicester Shopping Park, Oxford Road
Bicester
100,000
£34.5m
5%
Realty Income Corporation
127-129 High Street
Winchester
5,228 (retail units)
£3.65m
6.41%
Custodian REIT plc
8 Howard Way
Harlow
52,812 (retail warehouse)
£25m
3.96%
UBS Asset Management
Source: Cluttons, CoStar, Propertydata
Retail market update Q2 2022