Commercial market update Q2 2022

Economy is slowing and, early suggestions that we may avoid recession have been swept aside by the Bank of England following on from their August meeting.
Economic forecasts have changed significantly month-on-month as the situation has deteriorated. The Bank of England is now expecting a recession comparable to the early 1990s. Their forecast for inflation is that it could hit 13% before the end of the year. In this context it is not surprising that the Bank of England acted decisively in its early August meeting and raised rates by 50 basis points – its sixth consecutive rise and its highest single rise in 27 years.
Energy and transport costs
The latest headline inflation figure of 9.4% was in part driven by exceptionally high price increases for petrol and diesel, rising 42.3% in the year to end June. For this component of CPI, this is the highest rate since before the start of the constructed historical series in January 1989.
On 26 August 2022 Ofgem announced the energy price cap would increase to £3,549 per year for dual fuel for an average household from 1 October 2022. This would represent an approximate 70% increase on its current level and 163% on last winter. There is increasing concern that high energy costs will persist into 2023 and maybe beyond with the cap forecast to rise to £4,427 by April 2023.
Inflation to remain high in 2023
A month or two ago inflation was anticipated to fall back in 2023 (indeed the Consensus Forecast to July 2022 suggested inflation would be 2.9% next year), but alongside sustained high energy costs there is also evidence of wage pressures increasing which could make inflation more persistent. The Bank of England now suggests that inflation could remain high throughout 2023 (remaining above 10% for much of the year).
Bond yields rise
Commercial real estate is often held in reference to bond yield (fixed income yields) and the yield spread available. This spread was a main argument to support ever lower property yields. Looking at yield spreads now, this is no longer the case, with the spread between government bond yields and property yields now below their long-term average for offices and industrial. This isn't surprising given pressure on interest rates. UK 10-year bond yields have already risen from 0.85 in June 2021 to 2.4% in June 2022.
Investment sales volumes slowed in Q2
Across most key sectors of the market as investors reassess current yield levels, the economic climate or want clarity on how high interest rates will climb. Evidence suggests this has continued into Q3. The regional office markets (Bristol, Birmingham, Leeds and Manchester) were the collective exception with quarterly sales volumes rising here.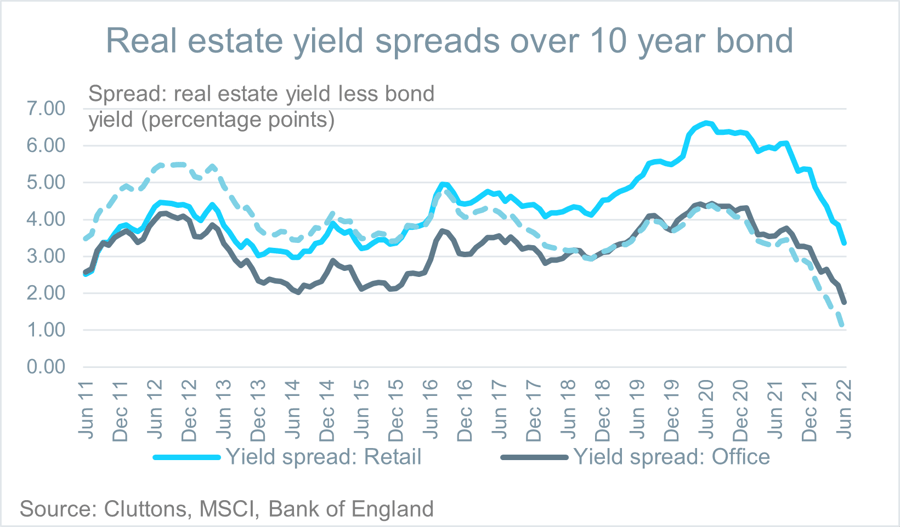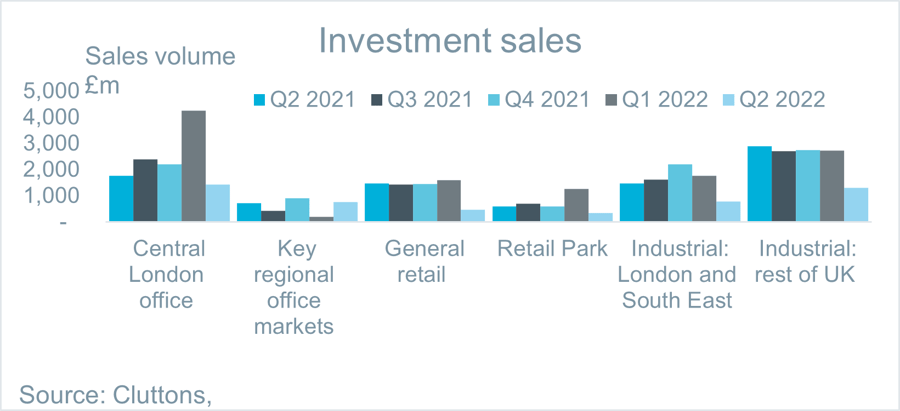 Commercial market update Q2 2022