Future Residential Series
There is no single definition of Prime Central London, and it continues to change and evolve depending on the demands and fashions of the time. Prime Central London has seen huge change since it emerged from the fields and marshes of the 18th century.
First came the Great Estates and exhibitions of the 19th century. Then followed the decline of the aristocracy and destruction of buildings in the early 20th century. More recent decades have seen the reinvention, expansion, and development of new neighborhoods. This raises the question of what and where is Prime Central London and how it might evolve in the future.
Defining Prime Central London is not simple and there is no single definitive list. However, it is perhaps useful if we reduce it into its constituent parts. First, in reverse order, is London, one of a limited number of truly global cities that attracts buyers from across the world. Second is Central, which is relatively easy to define and reflects the proximity to the pleasures and profits of the West End and City. It is the final part, defining what constitutes prime property that is much more difficult.
Perhaps the most frequent way to define Prime is by reference to property prices, either by capital value or, more typically, by price per square foot. Alternatively, Prime could be defined by areas such as postcode districts, street by street, or any other geography. But it is not just the location or the price, it is also the type and quality of property that matters. For example, the period houses on a street might be considered prime but the flat above the shop on the corner may not be. Ultimately what is prime will depend on the preferences of any given buyer and one person's prime might not be another buyer's cup of tea.
Given these challenges, it is perhaps easiest to say which areas are Prime Central London and which areas are not. What is harder is to define are the areas that fall somewhere in-between. For example, Earls Court (SW5), was historically excluded from definitions of Prime Central London thanks to its backpackers and cheap hotels. Most of those have moved further afield and SW5's garden squares have helped push average values well into Prime Central London territory.
Meanwhile, the growing pressures on London's housing in recent decades have also pushed previous residents of Prime Central London into neighbouring areas such as Fulham (SW6) and Maida Vale (W9). These areas are now priced as Prime but are not close enough to qualify as Prime Central London. This pressure will also have had a cascading effect on the rest of London with successive generations pushed further afield.
Perhaps the easiest way to define Prime Central London is with reference to location and the type of property. The value of the property is then a function of the two and represents the actual demand from buyers (and sellers' expectations). The map below shows that areas closer to Central London tend to have higher values on a per square foot basis. But analysis shows there is also variation around the type and quality of homes in the location. It finds that areas with higher proportions of period housing stock are more likely to have high values per square foot than areas with similar proximities to Central London but lower levels of period property. This suggests that Prime Central London was effectively defined nearly two hundred years ago with the development of the Great Estates. It also finds the expansion of Prime areas has been heavily dictated by the subsequent development during the Victorian period.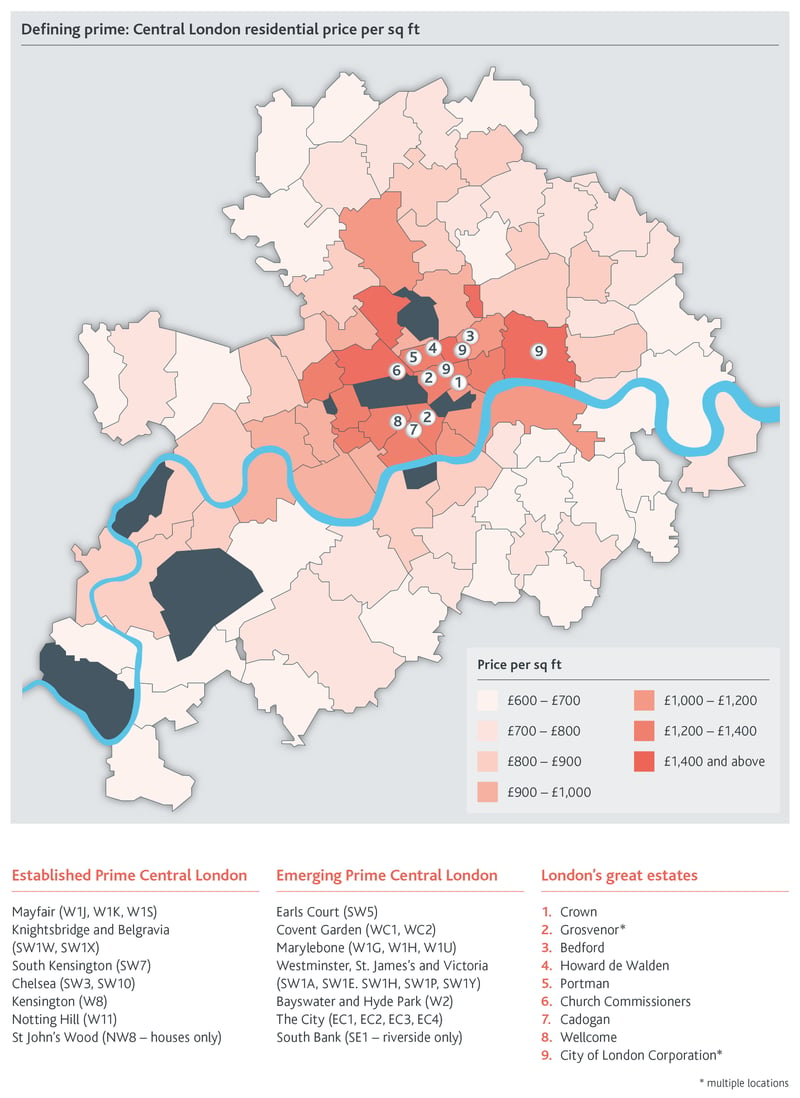 However, more recent developments show that we are not entirely dependent on what happened hundreds of years ago. There are locations such as Kings Cross and South Bank where development has helped push pricing up to levels previously only found in Prime Central London. There has also been a growing trend for residential development in areas that were more usually considered as somewhere to work rather than live such as Covent Garden and Victoria. That trend could become even more pronounced due to changing working practices since the pandemic.
What these more recent developments mean for definitions of Prime Central London is less certain. While these locations may achieve Prime Central London pricing, do they have the long-lasting attractiveness offered by the period properties in and around London's Great Estates. It is likely that only time will tell.
The evolution of Prime Central London articles
To read the complete The evolution of Prime Central London report, follow the links below or use the Download the Report button.
What is Prime Central London?